Discover the episode guide, cast, facts, and series transcripts and scripts.
Here's what we have on Netflix's, "Outer Banks". And, you can also read and download the transcripts, here, at 8FLiX.
A group of teenagers from the wrong side of the tracks stumble upon a treasure map that unearths a long buried secret.Netflix
"Outer Banks" Status Report.
What we know and what we don't.
Here are the basics:
There is a season 4 in the works with a release date of sometime in 2024. We'll keep you posted.
Discover the "Outer Banks" scripts, cast, facts and more!
Before downloading what we have, take a look around.
Meet the cast and writers of Netflix's "Outer Banks". Also, get the poster while you surf over to the official website and discover other sources. CLICK or TAP the SUPPLEMENTS button for more.
And, for the "Outer Banks" scripts, transcripts, episode summaries and more, keep scrolling!
Cast
Notable Series Cast
Chase Stokes
...
John B
Madelyn Cline
...
Sarah Cameron
Madison Bailey
...
Kiara
Jonathan Daviss
...
Pope
Rudy Pankow
...
JJ
Austin North
...
Topper
Charles Esten
...
Ward Cameron
Drew Starkey
...
Rafe
Adina Porter
...
Sheriff Peterkin
Cullen Moss
...
Deputy Shoupe
Deion Smith
...
Kelce
Caroline Arapoglou
...
Rose
Julia Antonelli
...
Wheezie Cameron
E. Roger Mitchell
...
Heyward
CC Castillo
...
Lana Grubbs
Nicholas Cirillo
...
Barry
Chelle Ramos
...
Deputy Plumb
Brian Stapf
...
Cruz
Gary Weeks
...
Luke
Marland Burke
...
Mike
Charles Halford
...
Big John
Michael Otis
...
Hugh Landry
Rob Mars
...
Deputy Thomas
Writing Team
Series Writers
Jonas Pate
...
Writer (created by)
Josh Pate
...
Writer (created by)
Shannon Burke
...
Writer (created by)
Rachel Alter
...
Writer
Kathleen Hale
...
Writer
Keith Josef Adkins
...
Writer
Jay Beattie
...
Writer
Dan Dworkin
...
Writer
Poster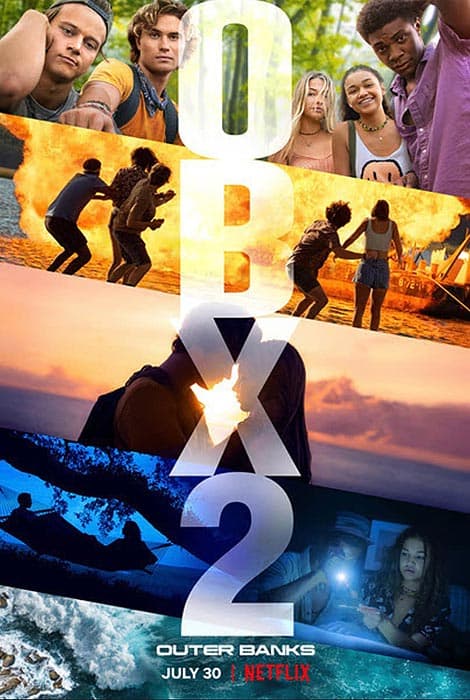 Here's our stash of "Outer Banks" scripts, transcripts and other swag.
We have both transcripts and teleplays!
Have a look at our "Outer Banks" scripts and transcripts from each season. You can go ahead and CLICK or TAP the button to go directly to the transcripts page.
For the TELEPLAY version, look for the appropriately labelled button.