Discover the episode guide, facts and series transcripts and scripts.
Here's what we have on The CW's, "Riverdale". And, you can also read and download the transcripts, here, at 8FLiX.
While navigating the troubled waters of romance, school and family, Archie and his gang become entangled in dark Riverdale mysteries.Netflix
"Riverdale" Status Report.
What we know and what we don't.
Here are the basics:
Season 7, the final season, begins March 29, 2023 on the CW.
Outside of the USA, Riverdale can be streamed on Netflix.
Discover the "Riverdale" scripts, cast, facts and more!
Before downloading what we have, take a look around.
Meet the cast and writers of "Riverdale". Also, get the poster while you surf over to the official website and discover other sources. CLICK or TAP the SUPPLEMENTS button for more.
And, for the "Riverdale" scripts, transcripts, episode summaries and more, keep scrolling!
Cast
Notable Cast
K.J. Apa
...
Archie Andrews
Lili Reinhart
...
Betty Cooper
Camila Mendes
...
Veronica Lodge
Cole Sprouse
...
Jughead Jones
Casey Cott
...
Kevin Keller
Madelaine Petsch
...
Cheryl Blossom
Mädchen Amick
...
Alice Cooper
Mark Consuelos
...
Hiram Lodge
Skeet Ulrich
...
FP Jones
Marisol Nichols
...
Hermione Lodge
Vanessa Morgan
...
Toni Topaz
Charles Melton
...
Reggie Mantle
Luke Perry
...
Fred Andrews
Drew Ray Tanner
...
Fangs Fogarty
Martin Cummins
...
Tom Keller
Alvin Sanders
...
Pop Tate
Nathalie Boltt
...
Penelope Blossom
Ashleigh Murray
...
Josie McCoy
Lochlyn Munro
...
Hal Cooper
Jordan Connor
...
Sweet Pea
Robin Givens
...
Sierra McCoy
Cody Kearsley
...
Moose Mason
Peter Bryant
...
Principal Waldo Weatherbee
Writing Team
Series Writers
Roberto Aguirre-Sacasa
...
Writer (created by)
Arabella Anderson
...
Writer
Brian E. Paterson
...
Writer
Tessa Williams
...
Writer
Britta Lundin
...
Writer
James DeWille
...
Writer
Janine Salinas Schoenberg
...
Writer
Greg Murray
...
Writer
Devon Turner
...
Writer
Ace Hasan
...
Writer
Michael Grassi
...
Writer
Poster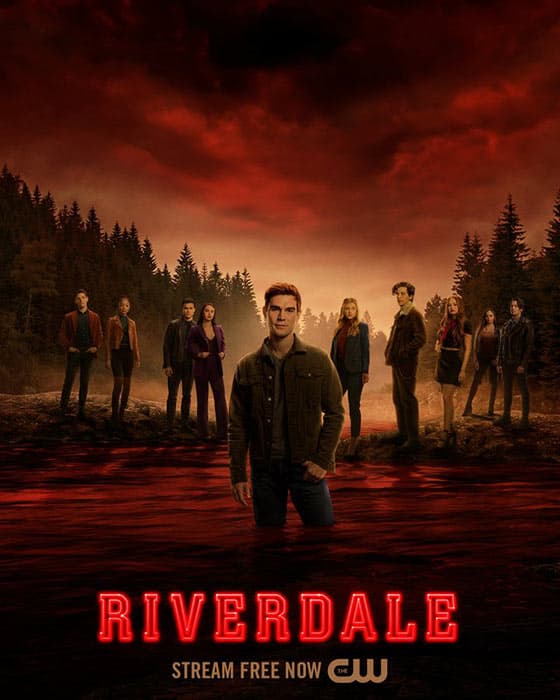 Here's our stash of "Riverdale" scripts, transcripts and other swag.
Have a look at our "Riverdale" scripts and transcripts from each season. You can go ahead and CLICK or TAP the button to go directly to the transcripts page.
For the TELEPLAY version, look for the appropriately labelled button.