See the plot, cast, script and facts from the 2004 written by Simon Pegg and Edgar Wright.
Here's what we have on the horror-comedy, "Shaun of the Dead." And, you can also read and download the official screenplay, here, at 8FLiX.
"Shaun of the Dead" Plot Summary.
SHAUN OF THE DEAD, a "rom zom com" (romantic zombie comedy), follows the bloody funny adventures of underachiever Shaun (Simon Pegg) and his best mate Ed (Nick Frost) as they cope with a zombie invasion of North London and attempt to rescue Shaun's girlfriend Liz (Kate Ashfield) and his Mum, Barbara (Penelope Wilton). It's going to be one hell of a weekend.

On Friday, Shaun is in a rut. At 29, he's coasted through life – and still hasn't gotten very far, usually winding up at the local pub, the Winchester. His roommate Ed looks up to him – when he can take his eyes off the TV, that is. Liz is re-evaluating their relationship, particularly after Shaun fails to do something special for their anniversary on Saturday.

That day, there are train delays, people fainting in the streets, TV news reports of unexplained calamities – and did that homeless man just try to eat a…? No, it can't be…But, it is – the dead have risen. Saturday's isolated incidents mushroom into a full-on zombie assault and, once daylight breaks, it's Sunday bloody Sunday. As manners and flesh take a beating, it's time to separate men from meat, humans from zombies, and living from undead. Shaun and Ed grab whatever is at hand (cricket bat, shovel, LP) to repel the attacking zombies, summoning reserves of strength they didn't know they possessed and straining muscles they forgot they had. Rounding up friends and family, they press on towards the sanctuary of the Winchester. All that stands (or lopes) in their way are hordes of the flesh-eating undead…
Discover the "Shaun of the Dead" plot, cast, facts and more!
Before downloading the screenplay, have a look at this.
Meet the cast and writers of "Shaun of the Dead". Also, see the box office and budget data while you surf over to the official website and discover other sources. CLICK or TAP the SUPPLEMENTS button for more.
And, for the script, CLICK OR TAP the DOWNLOAD PAGE button to go directly to the screenplay page.
Cast
Notable Cast
Simon Pegg
...
Shaun
Kate Ashfield
...
Liz
Nick Frost/td>
...
Ed
Lucy Davis
...
Dianne
Dylan Moran
...
David
Nicola Cunningham
...
Mary
Peter Serafinowicz
...
Pete
Rafe Spall
...
Noel
Bill Nighy
...
Philip
Trisha Goddard
...
Trisha Goddard
Jessica Hynes
...
Yvonne
Jeremy Thompson
...
Jeremy Thompson
Penelope Wilton
...
Barbara
Martin Freeman
...
Declan
Reece Shearsmith
...
Mark
Tamsin Greig
...
Maggie
Writing Team
Screenwriters
Simon Pegg
...
Writer (screenplay)
Edgar Wright
...
Writer (screenplay)
Box Office Data
(2004) GBP/USD
Budget
...
£4,000,000
Opening weekend
...
$3,300,000
Gross (US & Canada)
...
$13,542,874
Gross (World)
...
$30,097,092
Poster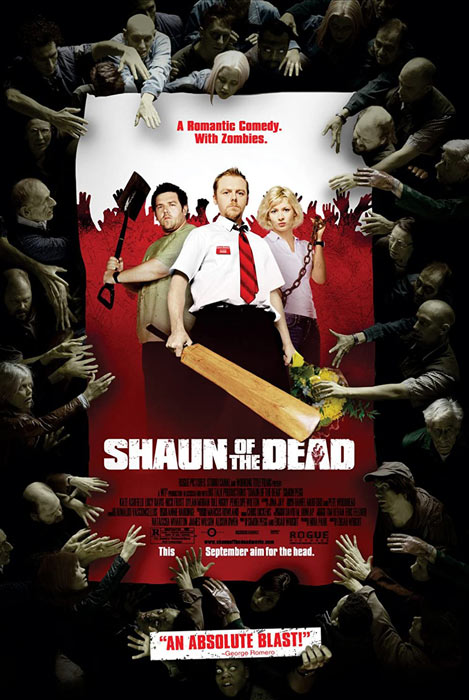 Looking For Something Else?
If you can't find what you're looking for here, send us an email. We take requests, too!
If you're searching for a specific movie or TV show/series, please let us know. 8FLiX has more than 10,000 scripts and screenplays. Not all are currently listed here. Eventually, they'll all be available to download (but certainly not in your lifetime). To avoid waiting decades for 8FLiX to add the script that you're looking for, send us an email. You still may have to wait, but it'll be days rather than generations.