Discover the episode guide, facts and series transcripts and scripts.
Here's what we have on Netflix's animated/live-action series, "Lost Ollie". And, you can also read and download the transcripts, here, at 8FLiX.
LOST OLLIE is an epic adventure about a lost toy who braves the many dangers of childhood as he searches the countryside to reunite with the boy who lost him; and the story of the boy who lost more than a best friend. It's a heartwarming tale for the child in us all, remembering those special souls that we've lost but who forever changed our lives. Netflix
"Lost Ollie" Status Report.
What we know and what we don't.
A seamless blend of animation and live-action.
CGI (from industry pioneer Industrial Light and Magic) is stunning; the live-action cinematography (by C. Kim Miles) is on-point. At times it's hard to tell the difference between "fiction" and reality.
The story may sound familiar (a lost toy searching for their human bff), but the feeling is quite different.
And the overall message will leave you balling your eyes out.
Watch it more than once. And then talk about it; with your kids, your friends -- with everyone.
Discover the "Lost Ollie" scripts, cast, facts and more!
Before downloading what we have, take a look around.
Meet the cast and writers of Netflix's "Lost Ollie". Also, get the poster while you surf over to the official website and discover other sources. CLICK or TAP the SUPPLEMENTS button for more.
And, for the "Lost Ollie" scripts, transcripts, episode summaries and more, keep scrolling!
Cast
Notable Cast (≥2 episodes)
Jonathan Groff
...
Ollie
Jake Johnson
...
Daddy
Gina Rodriguez
...
Momma
Tim Blake Nelson
...
Zozo
Mary J. Blige
...
Rosy
Kesler Talbot
...
Billy
BJ Harrison
...
Flossie
Everett Andres
...
Mike Apple
Zoë Noelle Baker
...
Jolene
Paul Anthony
...
Jim Tom
James Pizzinato
...
Suzy's Dad
Isabel Birch
...
Suzy Wiles
Nevin Burkholder
...
Rhodes
William Carson
...
Billy ( 4 yrs old)
Everick Golding
...
Mr. Gilly
Benjamin Goas
...
Less Skilled Ball Tosser
Stephen Adekolu
...
Huge Guy in Tank Top
Justin Lacey
...
Waffle Cone Guy
Leandro Guedes
...
Big Kid Dodgers Cap
Kari Staten
...
Shannon Courte - MRI Technician
Erik Gow
...
Auctioneer
Eric Regimbald
...
Ball Toss Vendor
Writing Team
Series Writers
Shannon Tindle
...
Writer (created by), (adapted by)
Kate Gersten
...
Writer
Marc Haimes
...
Writer
William Joyce
...
Writer (based on the book by)
Poster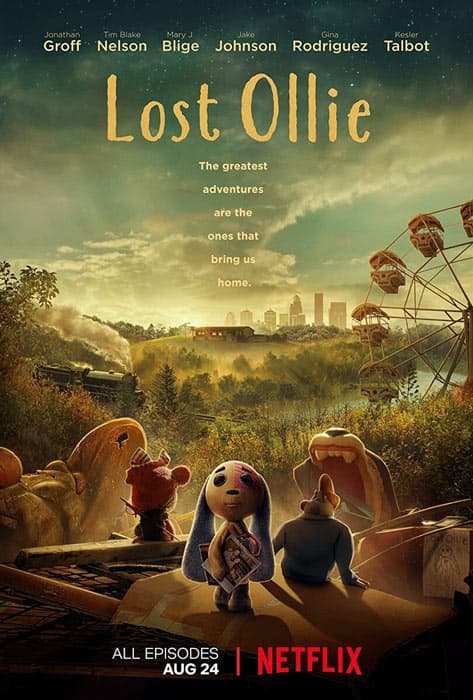 Here's our stash of "Lost Ollie" scripts, transcripts and other swag.
Have a look at our "Lost Ollie" scripts and transcripts from each season. You can go ahead and CLICK or TAP the button to go directly to the transcripts page.
For the TELEPLAY version, look for the appropriately labelled button.