Discover the episode guide, cast, facts, and transcripts from the series.
Here's what we have on Netflix's, "Dark". And, you can also read and download the transcripts, here, at 8FLiX.
A family saga with a supernatural twist, set in a German town, where the disappearance of two young children exposes the relationships among four families. Netflix
What we know and what we don't.
Here are the basics:
"Dark" wrapped production after three seasons. Although the full series is still available to watch on Netflix, there are no plans to extend beyond the current 26 episodes.
Discover the "Dark" transcripts, episode guide, facts and more!
Before downloading what we have, take a look around.
Meet the cast and writers of Netflix's "Dark". Also, get the poster while you surf over to the official website and discover other sources. CLICK or TAP the SUPPLEMENTS button for more.
And, for the "Dark" scripts, transcripts, episode summaries and more, keep scrolling!
Cast
Notable Cast
Louis Hofmann
...
Jonas Kahnwald
Karoline Eichhorn
...
Charlotte Doppler
Lisa Vicari
...
Martha Nielsen
Maja Schöne
...
Hannah Kahnwald
Stephan Kampwirth
...
Peter Doppler
Jördis Triebel
...
Katharina Nielsen
Andreas Pietschmann
...
The Stranger
Paul Lux
...
Bartosz Tiedemann
Moritz Jahn
...
Magnus Nielsen
Oliver Masucci
...
Ulrich Nielsen
Peter Benedict
...
Aleksander Tiedemann
Gina Stiebitz
...
Franziska Doppler
Deborah Kaufmann
...
Regina Tiedemann
Daan Lennard Liebrenz
...
Mikkel Nielsen
Julika Jenkins
...
Claudia Tiedemann
Carlotta von Falkenhayn
...
Elisabeth Doppler
Tamar Pelzig
...
Doris
Dietrich Hollinderbäumer
...
Adam
Mark Waschke
...
Noah
Leopold Hornung
...
Torben Wöller
Christian Pätzold
...
Egon Tiedemann (1986)
Hermann Beyer
...
Helge Doppler
Writing Team
Series Writers
Baran bo Odar
...
Writer (created by)
Jantje Friese
...
Writer (created by)
Marc O. Seng
...
Writer
Martin Behnke
...
Writer
Ronny Schalk
...
Writer
Daphne Ferraro
...
Writer
Awards
Poster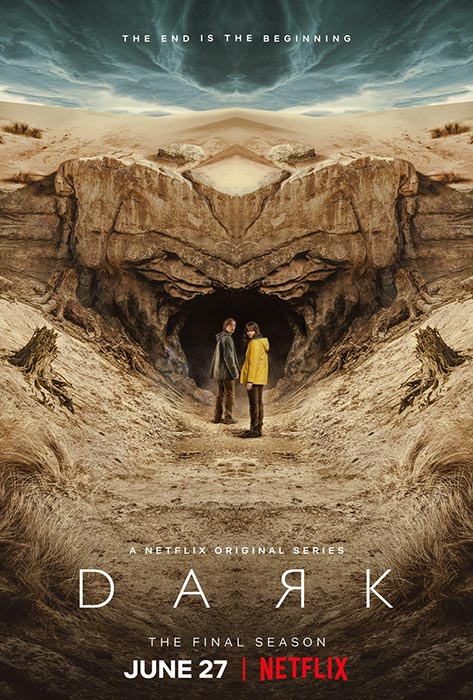 Here's our stash of "Dark" scripts, transcripts and other swag.
Have a look at our "Dark" scripts and transcripts from each season. You can go ahead and CLICK or TAP the button to go directly to the transcripts page.
For the TELEPLAY version, look for the appropriately labelled button.