Read "The Menu" Screenplay
All of the screenplays at 8FLiX are free. Get the PDF wherever, whenever, and however you want.
Have you read Seth Reiss's and Will Tracy's "The Menu" screenplay? Now's your chance. Get it right here, right now!
A couple, Margot (Anya Taylor-Joy) and Tyler (Nicholas Hoult), travel to a coastal island to eat at an exclusive restaurant. The reclusive, globally celebrated Chef Julian Slowik (Ralph Fiennes) has prepared a lavish tasting menu for select special guests. Joining the couple are three young, already inebriated tech bros, Bryce (Rob Yang), Soren (Arturo Castro) and Dave (Mark St. Cyr). Also, an older wealthy couple and repeat clients, Anne and Richard (Judith Light and Reed Birney). And, renowned restaurant critic Lillian Bloom (Janet McTeer) and her slavish magazine editor Ted (Paul Adelstein). Plus, a famous middle-aged movie star (John Leguizamo) with his assistant Felicity (Aimee Carrero). It's going to be a star-studded feast!
Hosted by the immaculately dressed front of house staff led by general Elsa (Hong Chau), the evening unfolds with increasing tension at each of the guest tables as secrets are revealed and unexpected courses are served. With wild and violent events occurring, Slowik's motivation begins to rattle the diners as it becomes increasingly apparent that his elaborate menu is designed to catalyze to a shocking finale.
Okay, now let's get to the meal!
Discover More About "The Menu" Screenplay
Just the facts, and everything else you should know.
Okay, so in addition to the film's logline and poster are some of the most important details about the script. You'll notice that we've attached a "classification" label inside of a color-coded border. For a better understanding of the screenplay's source, have a look at the "Glossary" a little further down.
Also, when you click on the screenwriter's name, you'll be directed to the "Writer Archives." If we have other works from the author, they'll be in there.
Now, let's go through what we have for you today.
Take a look at "The Menu" logline.
A young couple travels to a remote island to eat at an exclusive restaurant where the chef has prepared a lavish menu, with some shocking surprises. Searchlight Pictures
"The Menu" Screenplay Details.
Whether you're a fan or an aspiring screenwriter, here are some important particulars you'll want to know.
To get "The Menu" script now, keep scrolling until you see the Download PDF button. And, just a reminder, for a better understanding of our color-coded classifications, scroll a little further down until you find the "Glossary."
Okay, here are the facts: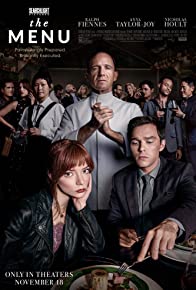 How to read and download the screenplay.
Click or tap the DOWNLOAD PDF button to read or save the screenplay.
It's free! Enjoy the read, and thanks for visiting 8FLiX!
Looking For Something Else?
If you can't find what you're looking for here, send us an email. We take requests, too!
If you're searching for a specific movie or TV show/series, please let us know. 8FLiX has more than 10,000 scripts and screenplays. Not all are currently listed here. Eventually, they'll all be available to download (but certainly not in your lifetime). To avoid waiting decades for 8FLiX to add the script that you're looking for, send us an email. You still may have to wait, but it'll be days rather than generations. You can SEARCH our site when you're ready!
Wondering about the screenplay's origin? Here's what we know.
...

It's the same, but different.

All right, so our understanding is that a professional screenwriter retyped the original script. Think of it as a modern-day "photocopy." So, that means you'll see all of the original author's spelling, grammatical, and/or formatting anomalies.

...

For Your Consideration.

When you see a script labelled as "FYC", it's as good as gold! FYC screenplays are made public each year during what is commonly referred to as "awards season." Rest assured, we got this right from the author or studio.

...

Official, authentic, real.

Like FYC screenplays, this is an official copy provided by the studio or original author.

...

Unofficial reproduction.

This is a tricky one to explain. On one hand, this screenplay is an unofficial copy. On the other, it's formatted and transcribed by a professional writer and not a fan. Basically, that's why we've chosen to list it. So, although the typesetting and dialogue may be accurate, the scenarios and action blocks are likely not the works of the original credited screenwriter.

...

Digitized version of the screenplay-actual.

Using a scanner, the paper version of the ORIGINAL script was digitized. Yep, it's that simple.