Read the "Fantastic Beasts: The Secrets of Dumbledore" Screenplay
All of the screenplays at 8FLiX are free. Get the PDF wherever, whenever, and however you want.
Have you read "Fantastic Beasts: The Secrets of Dumbledore" screenplay by J.K. Rowling and Steve Kloves? See it right here, right now! This isn't a product of fan labor, and it's not a transcript. Get ready, because you're about to immerse yourself in something fantastic. No sign up required.
And, for your consideration, we offer the final shooting script from March 2022. Free, of course, from 8FLiX and Warner Bros.
Also, you can learn a little more about the writers. Just click or tap their name to get started.
And, be sure to check out the other two screenplays in this series: "Fantastic Beasts and Where to Find Them" and "The Crimes of Grindelwald". You found them first--here--at 8FLiX.
Okay, now let's get to the goods!
Discover More About the "Fantastic Beasts: The Secrets of Dumbledore" Screenplay
Just the facts, and everything else you should know.
Okay, so in addition to the film's logline and poster are some of the most important details about the script. You'll notice that we've attached a "classification" label inside of a color-coded border. For a better understanding of the screenplay's source, have a look at the "Glossary" a little further down.
Also, when you click on the screenwriter's name, you'll be directed to the "Writer Archives." If we have other works from the author, they'll be in there.
Now, let's go through what we have for you today.
Take a look at the "Fantastic Beasts: The Secrets of Dumbledore" logline.
Professor Albus Dumbledore knows the powerful Dark wizard Gellert Grindelwald is moving to seize control of the wizarding world. Unable to stop him alone, he entrusts Magizoologist Newt Scamander to lead an intrepid team of wizards, witches and one brave Muggle baker on a dangerous mission, where they encounter old and new beasts and clash with Grindelwald's growing legion of followers.

But with the stakes so high, how long can Dumbledore remain on the sidelines?Warner Bros.
"Fantastic Beasts: The Secrets of Dumbledore" Screenplay Details.
Whether you're a fan or an aspiring screenwriter, here are some important particulars you'll want to know.
To get the "Fantastic Beasts: The Secrets of Dumbledore" script now, keep scrolling until you see the Download PDF button. And, just a reminder, for a better understanding of our color-coded classifications, scroll a little further down until you find the "Glossary."
Okay, here are the facts: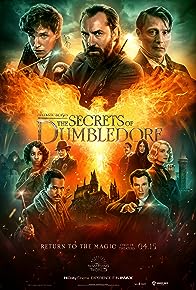 How to read and download the screenplay.
Click or tap the DOWNLOAD PDF button to read or save the screenplay.
It's free! Enjoy the read, and thanks for visiting 8FLiX! Also, if you're going to publish this script on your site, no problem! If there's a watermark, please leave it intact. We're a registered non-profit; ads and traffic are the only source of our funding.
Compare the script and movie together with 8FLiX and JustWatch.
Now that you have the screenplay, stream "Fantastic Beasts: The Secrets of Dumbledore" and compare. We've partnered with JustWatch so you can make that happen.
Looking For Something Else?
If you can't find what you're looking for here, send us an email. We take requests, too!
If you're searching for a specific movie or TV show/series, please let us know. 8FLiX has more than 10,000 scripts and screenplays. Not all are currently listed here. Eventually, they'll all be available to download (but certainly not in your lifetime). To avoid waiting decades for 8FLiX to add the script that you're looking for, send us an email. You still may have to wait, but it'll be days rather than generations. You can SEARCH our site when you're ready!
Wondering about the screenplay's origin? Here's what we know.
...

It's the same, but different.

All right, so our understanding is that a professional screenwriter retyped the original script. Think of it as a modern-day "photocopy." So, that means you'll see all of the original author's spelling, grammatical, and/or formatting anomalies.

...

For Your Consideration.

When you see a script labelled as "FYC", it's as good as gold! FYC screenplays are made public each year during what is commonly referred to as "awards season." Rest assured, we got this right from the author or studio.

...

Official, authentic, real.

Like FYC screenplays, this is an official copy provided by the studio or original author.

...

Unofficial reproduction.

This is a tricky one to explain. On one hand, this screenplay is an unofficial copy. On the other, it's formatted and transcribed by a professional writer and not a fan. Basically, that's why we've chosen to list it. So, although the typesetting and dialogue may be accurate, the scenarios and action blocks are likely not the works of the original credited screenwriter.

...

Digitized version of the screenplay-actual.

Using a scanner, the paper version of the ORIGINAL script was digitized. Yep, it's that simple.