Discover the episode guide, facts and series transcripts and scripts.
Here's what we have on Netflix's, "Young Royals". And, you can also read and download the transcripts, here, at 8FLiX.
Prince Wilhelm adjusts to life at his prestigious new boarding school, Hillerska, but following his heart proves more challenging than anticipated. Netflix
"Young Royals" Status Report.
What we know and what we don't.
Here are the basics:
Season 3 is in production. Expected to drop in 2024 (no official date released). Netflix did release a teaser-clip... and it is too cute to ignore. See it on YouTube (Netflix Nordic).
UPDATE: November 1, 2022:
"Young Royals" season 2 is now streaming on Netflix.
UPDATE: October 18, 2022:
"Young Royals" season 2 drops November 1, 2022 on Netflix.
PREVIOUS UPDATES:
Netflix made the "Young Royals" (shockingly "larger-than-life") fanbase very happy on September 22, 2021. The original Swedish series, that has ALSO garnered a rather large English-language following, is getting a second season.
Discover the "Young Royals" scripts, cast, facts and more!
Before downloading what we have, take a look around.
Meet the cast and writers of Netflix's "Young Royals". Also, get the poster while you surf over to the official website and discover other sources. CLICK or TAP the SUPPLEMENTS button for more.
And, for the "Young Royals" scripts, transcripts, episode summaries and more, keep scrolling!
Cast
Notable Cast
Edvin Ryding
...
Wilhelm
Omar Rudberg
...
Simon
Samuel Astor
...
Nils
Mimmi Cyon
...
Fredrika
Uno Elger
...
Walter
Malte Gårdinger
...
August
Ingela Olsson
...
Anette Lilja
Fabian Penje
...
Henry
Carmen Gloria Pérez
...
Linda
Felicia Truedsson
...
Stella
Nathalie Varli
...
Madison
Nils Wetterholm
...
Vincent
Aminah Al Fakir
...
Fröken Åhdal
Peter Carlberg
...
Magister Englund
Claes Hartelius
...
Boris
Inti Zamora Sobrado
...
Ayub
Pierre Wilkner
...
Husfar
Beri Gerwise
...
Rosh
Xiao-Long Rathje Zhao
...
Alexander
Leonard Terfelt
...
Micke
Ivar Forsling
...
Erik
Writing Team
Series Writers
Lars Beckung
...
Writer (created by)
Lisa Ambjörn
...
Writer (created by)
Camilla Holter
...
Writer (created by)
Sofie Forsman
...
Writer
Tove Forsman
...
Writer
Pia Gradvall
...
Writer
Poster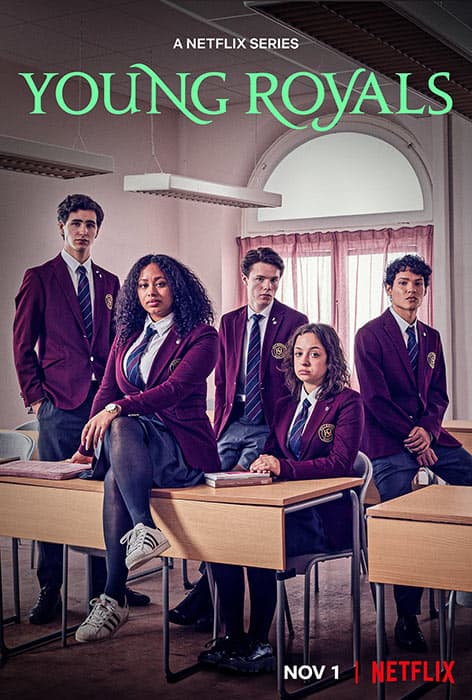 (Originally posted July 2, 2021)
"Young Royals" is from Sweden. The spoken languages are mainly Swedish and some Spanish. There are several alternate-language subtitle and audio dubbing options available, including English. And, like many non-English Netflix shows, don't let that deter you from watching this series.
The series focus is mainly on Wilhelm (played by Edvin Ryding), the rebellious teen-prince who's third-in-line to the Regalia of Sweden. And with that H.R.H. (His Royal Highness) status comes tradition and rules; none of which Wilhelm is interested in following.
The young prince's life gets considerably more complicated after a family tragedy. Wilhelm must now choose between duty and love. Sound familiar? Let me continue.
You see, Wilhelm has fallen for a classmate of a different class. A "commoner"; that is to say someone whom is not of "Blue Blood" -- royalty. Oh, and Wilhelm is secretly gay. So there's that.
Here's our stash of "Young Royals" scripts, transcripts and other swag.
Have a look at our "Young Royals" scripts and transcripts from each season. You can go ahead and CLICK or TAP the button to go directly to the transcripts page.
For the TELEPLAY version, look for the appropriately labelled button.