Discover the episode guide, cast, facts, and series transcripts and scripts.
Here's what we have on Netflix's, "Ozark". And, you can also read and download the transcripts, here, at 8FLiX.
A financial advisor drags his family from Chicago to the Missouri Ozarks, where he must launder money to appease a drug boss.Netflix
What we know and what we don't.
Here are the basics:
Julia Garner won 3 Emmy Awards for her performance as Ruth Langmore (2019, 2020, and 2022).
Jason Bateman won an Emmy (2019) for directing 'Reparations' (SE2: EP1).
Ozark has wrapped production. No further seasons are planned.
Discover the "Ozark" scripts, cast, facts and more!
Before downloading what we have, take a look around.
Meet the cast and writers of Netflix's "Ozark". Also, get the poster while you surf over to the official website and discover other sources. CLICK or TAP the SUPPLEMENTS button for more.
And, for the "Ozark" scripts, transcripts, episode summaries and more, keep scrolling!
Cast
Notable Series Cast
Jason Bateman
...
Martin 'Marty' Byrde
Laura Linney
...
Wendy Byrde
Sofia Hublitz
...
Charlotte Byrde
Skylar Gaertner
...
Jonah Byrde
Julia Garner
...
Ruth Langmore
Lisa Emery
...
Darlene Snell
Charlie Tahan
...
Wyatt Langmore
Jordana Spiro
...
Rachel
Jason Butler Harner
...
Roy Petty
Peter Mullan
...
Jacob Snell
Carson Holmes
...
Three Langmore
Janet McTeer
...
Helen Pierce
Kevin L. Johnson
...
Sam Dermody
McKinley Belcher III
...
Agent Trevor Evans
Trevor Long
...
Cade
Robert C. Treveiler
...
Sheriff Nix
Nelson Bonilla
...
Nelson
Harris Yulin
...
Buddy Dieker
Esai Morales
...
Del
Tom Pelphrey
...
Ben Davis
Jessica Frances Dukes
...
Special Agent Maya Miller
Felix Solis
...
Omar Navarro
Michael Mosley
...
Mason Young
Marc Menchaca
...
Russ Langmore
Darren Goldstein
...
Charles Wilkes
Evan George Vourazeris
...
Tuck
Joseph Sikora
...
Frank Cosgrove Jr.
Christopher James Baker
...
Boyd Langmore
John Bedford Lloyd
...
Frank Cosgrove
Melissa Saint-Amand
...
Jade
Madison Thompson
...
Erin Pierce
Michael Tourek
...
Ash
Damian Young
...
Jim
Bethany Anne Lind
...
Grace Young
Awards
Writing Team
Series Writers
Bill Dubuque
...
Writer (created by)
Mark Williams
...
Writer (created by)
Paul Kolsby
...
Writer
Ning Zhou
...
Writer
Martin Zimmerman
...
Writer
Chris Mundy
...
Writer
Ryan Farley
...
Writer
Alyson Feltes
...
Writer
Whit Anderson
...
Writer
David Manson
...
Writer
Miki Johnson
...
Writer
John Shiban
...
Writer
Laura Deeley
...
Writer
Poster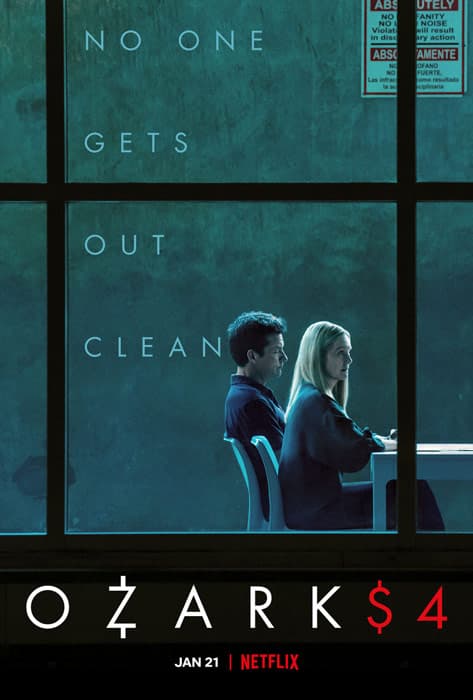 Here's our stash of "Ozark" scripts, transcripts and other swag.
We have both transcripts and teleplays!
Have a look at our "Ozark" scripts and transcripts from each season. You can go ahead and CLICK or TAP the button to go directly to the transcripts page.
For the TELEPLAY version, look for the appropriately labelled button.