Discover the episode guide, facts and series transcripts and scripts.
Here's what we have on Netflix's, "The Witcher". And, you can also read and download the transcripts, here, at 8FLiX.
Geralt of Rivia, a solitary monster hunter, struggles to find his place in a world where people often prove more wicked than beasts. Netflix
"The Witcher" Status Report.
What we know and what we don't.
Here are the basics:
UPDATE:
All 8 episodes of season 3 are now streaming on Netflix.
PREVIOUS UPDATES:
Volume II (episodes 6 - 8) drops: July 27, 2023 @ 12:01 am (PT).
Volume I (episodes 1 - 5) drops: June 29, 2023 @ 12:01 am (PT).
There are 4 seasons planned.
A release date for season 3 has not yet been announced.
We'll keep you updated.
Discover "The Witcher" scripts, cast, facts and more!
Before downloading what we have, take a look around.
Meet the cast and writers of Netflix's "The Witcher". Also, get the poster while you surf over to the official website and discover other sources. CLICK or TAP the SUPPLEMENTS button for more.
And, for "The Witcher" scripts, transcripts, episode summaries and more, keep scrolling!
Cast
Notable Cast
Henry Cavill
...
Geralt of Rivia
Anna Shaffer
...
Triss
Freya Allan
...
Ciri
Adjoa Andoh
...
Nenneke
Yasen Atour
...
Coen
Simon Callow
...
Codringher
Liz Carr
...
Fenn
Cassie Clare
...
Phillippa Eilhart
Kevin Doyle
...
Ba'lian
Basil Eidenbenz
...
Eskel
Chris Fulton
...
Rience
Graham McTavish
...
Dijkstra
Anya Chalotra
...
Yennefer
Mimi Ndiweni
...
Fringilla
Mecia Simson
...
Francesca
Eamon Farren
...
Cahir
Gianni Calchetti
...
Lord Hern
Paul Bullion
...
Lambert
MyAnna Buring
...
Tissaia
Wilson Mbomio
...
Dara
Adam Levy
...
Mousesack
Joey Batey
...
Jaskier
Lars Mikkelsen
...
Stregobor
Royce Pierreson
...
Istredd
Jodhi May
...
Queen Calanthe
Björn Hlynur Haraldsson
...
Eist
Therica Wilson-Read
...
Sabrina
Judit Fekete
...
Vanielle of Brugge
Máté Haumann
...
Field Marshall
Writing Team
Series Writers
Lauren Schmidt
...
Writer (showrunner)
Andrzej Sapkowski
...
Writer (books)
Haily Hall
...
Writer
Declan De Barra
...
Writer
Beau DeMayo
...
Writer
Jenny Klein
...
Writer
Sneha Koorse
...
Writer
Mike Ostrowski
...
Writer
Clare Higgins
...
Writer
Poster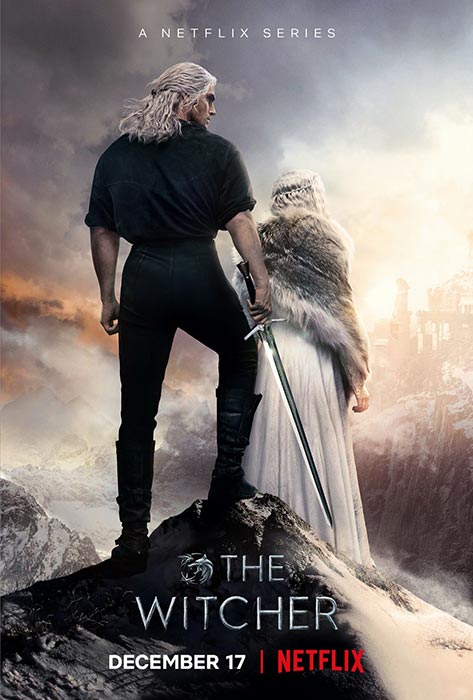 Here's our stash of "The Witcher" scripts, transcripts and other swag.
Have a look at our collection of "The Witcher" scripts and transcripts from each season. You can go ahead and CLICK or TAP the button to go directly to the transcripts page.
For the TELEPLAY version, look for the appropriately labelled button.