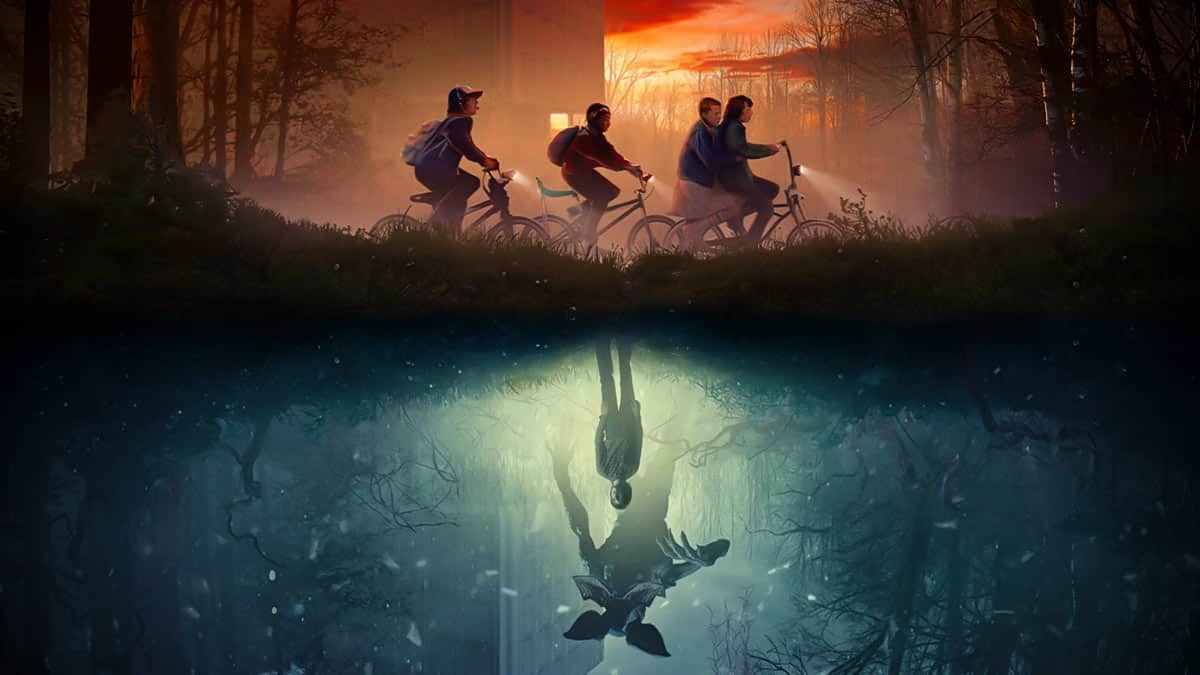 Discover the plot, cast, scripts and facts from the series.
Here's what we have on Netflix's, "Stranger Things". And, you can also read and download the transcripts, here, at 8FLiX.
When a young boy disappears, his mother, a police chief and his friends must confront terrifying supernatural forces in order to get him back. Netflix
"Stranger Things" Status Report.
What we know and what we don't.
UPDATE, August 2, 2022: Stranger Things 5 is now in pre-production. The Stranger Things writers room let the entire world know that "Day 1" has begun. Check out the Twitter post.
UPDATE, July 1, 2022: The final two episodes of Stranger Things 4 scripts have dropped.
UPDATE, May 27, 2022: We made it! It's here! The first 7 episodes of the Stranger Things 4 scripts.
UPDATE, May 23, 2022: Netflix dropped the final Stranger Things 4 trailer. See it HERE (Official Stranger Things YouTube Channel).
UPDATE, April 12, 2022: Netflix dropped a new trailer for Stranger Things 4. See it HERE.
UPDATE, February 17, 2022: Stranger Things season 5 will be the last. Plus, release dates for Stranger Things 4 are May 27 (volume 1) and July 1 (volume 2). Nine episodes in total. Also, Matt and Ross Duffer, the series showrunners and writers, confirmed the series finale in an open letter to fans. Read the letter HERE.
UPDATE, NOVEMBER 6, 2021: Stranger Things 4 Episode Titles Revealed. Plus, Summer 2022 Release Date! See the Title Teaser.
UPDATE, NOVEMBER 6, 2021: Netflix dropped a new season 4 teaser during Stranger Things Day celebrations! And it is gnarly. Check it out here, at YouTube.
PREVIOUS FACTUAL UPDATES:
~ The COVID-19 pandemic caused numerous interruptions to the production schedule. However, things appear to be moving forward once again.
~ On August 6, 2021, Netflix announced a 2022 release date for the new season (but no specific day yet).
60 min/episode
|
Drama, Fantasy, Horror
Netflix Series | 2016 - CURRENT
4 Seasons | 32 Episodes
Season 5 is IN PRE PRODUCTION
Information is current as of 01/29/2023
Discover the "Stranger Things" scripts, cast, facts and more!
Before downloading what we have, take a look around.
Meet the cast and writers of Netflix's "Stranger Things". Also, get the poster while you surf over to the official website and discover other sources. CLICK or TAP the SUPPLEMENTS button for more.
And, for the "Stranger Things" scripts, transcripts, episode summaries and more, keep scrolling!
To watch the trailer, head on over to YouTube.
Here's our "Stranger Things" scripts, transcripts and other swag.
We have both transcripts and teleplays!
Have a look at our "Stranger Things" scripts and transcripts from each season. You can go ahead and CLICK or TAP the button to go directly to the transcripts page.
For the TELEPLAY version, look for the appropriately labelled button.
RELEASE YEAR: 2022
In this most vulnerable time, a new and horrifying supernatural threat surfaces, presenting a gruesome mystery that, if solved, might finally put an end to the horrors of the Upside Down.