Discover the episode guide, facts and series transcripts and scripts.
Here's what we have on Freeform's, "Pretty Little Liars". And, you can also read and download the transcripts, here, at 8FLiX.
Four friends band together against an anonymous foe who threatens to reveal their darkest secrets, while also investigating the disappearance of their best friend.Freeform
"Pretty Little Liars" Status Report.
What we know and what we don't.
Here are the basics:
After seven, somewhat successful, seasons on Freeform (formerly ABC Family), the series wrapped production in 2017. A total of 160 episodes were produced.
The entire series can now be streamed (worldwide, with a few exceptions) on Netflix.
There are no additional seasons planned.
Discover the "Pretty Little Liars" scripts, cast, facts and more!
Before downloading what we have, take a look around.
Meet the cast and writers of "Pretty Little Liars". Also, get the poster while you surf over to the official website and discover other sources. CLICK or TAP the SUPPLEMENTS button for more.
And, for the "Pretty Little Liars" scripts, transcripts, episode summaries and more, keep scrolling!
Cast
Notable Cast
Troian Bellisario
...
Spencer Hastings
Ashley Benson
...
Hanna Marin
Lucy Hale
...
Aria Montgomery
Shay Mitchell
...
Emily Fields
Sasha Pieterse
...
Alison DiLaurentis / Alison Rollins
Ian Harding
...
Ezra Fitz
Laura Leighton
...
Ashley Marin
Janel Parrish
...
Mona Vanderwaal
Tyler Blackburn
...
Caleb Rivers
Keegan Allen
...
Toby Cavanaugh
Holly Marie Combs
...
Ella Montgomery
Chad Lowe
...
Byron Montgomery
Writing Team
Series Writers
I. Marlene King
...
Developer / Writer
Sara Shepard
...
Book Series
Bryan M. Holdman
...
Writer
Francesca Rollins
...
Writer
Jonell Lennon
...
Writer
Joseph Dougherty
...
Writer
Maya Goldsmith
...
Writer
Oliver Goldstick
...
Writer
Tamar Laddy
...
Writer
Poster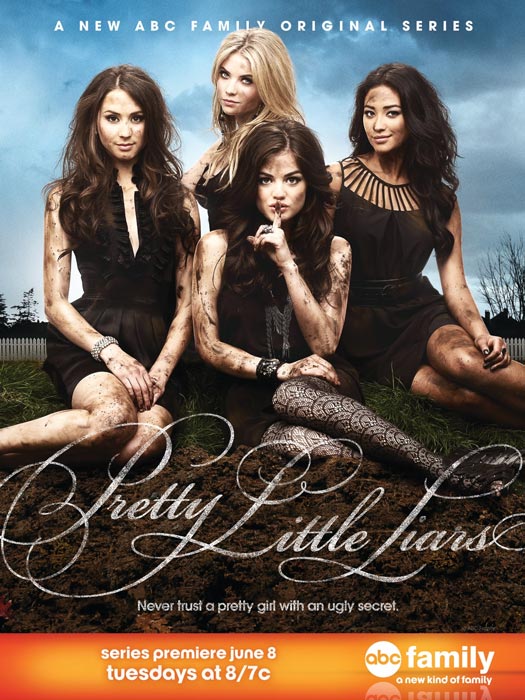 Here's our stash of "Pretty Little Liars" scripts, transcripts and other swag.
Have a look at our "Pretty Little Liars" scripts and transcripts from each season. You can go ahead and CLICK or TAP the button to go directly to the transcripts page.
For the TELEPLAY version, look for the appropriately labelled button.