See the plot, cast, facts, and script from the 1973 movie written by William Peter Blatty.
Here's what we have on the Warner Bros. classic, "The Exorcist". And, you can also read and download the official screenplay, here, at 8FLiX.
"The Exorcist" Plot Summary.
William Friedkin directs one of the most horrifying movies ever made. When a charming 12-year-old girl takes on the characteristics and voices of others, doctors say there is nothing they can do. As people begin to die, the girl's mother realizes her daughter has been possessed by the devil--and that her daughter's only possible hope lies with two priests and the ancient rite of demonic exorcism.
Discover "The Exorcist" plot, cast, facts and more!
Before downloading the screenplay, have a look at this.
Meet the cast and writer of "The Exorcist". Also, read the box office and budget data while you surf over to the official website and discover other sources. CLICK or TAP the SUPPLEMENTS button for more.
And, for the script, CLICK OR TAP the DOWNLOAD PAGE button to go directly to the screenplay page.
Cast
Notable Cast
Ellen Burstyn
...
Chris MacNeil
Max von Sydow
...
Father Lankester Merrin
Lee J. Cobb
...
Lt. William Kinderman
Kitty Winn
...
Sharon
Jack MacGowran
...
Burke Dennings
Jason Miller
...
Father Damien Karras
Linda Blair
...
Regan MacNeil
William O'Malley
...
Father Dyer
Barton Heyman
...
Dr. Klein
Peter Masterson
...
Dr. Barringer
Rudolf Schündler
...
Karl
Gina Petrushka
...
Willi
Robert Symonds
...
Dr. Taney
Arthur Storch
...
Psychiatrist
Thomas Bermingham
...
Tom
Vasiliki Maliaros
...
Karras' Mother
Titos Vandis
...
Karras' Uncle
John Mahon
...
Language Lab Director
Wallace Rooney
...
Bishop Michael
Writer
Screenwriter
William Peter Blatty
...
Writer (screenplay/novel)
Awards
Notable Wins
William Peter Blatty
...
Best Writing, Screenplay Based on Material from Another Medium
Christopher Newman, Robert Knudson
...
Best Sound
William Peter Blatty, Noel Marshall
...
Best Motion Picture - Drama
Linda Blair
...
Best Supporting Actress - Motion Picture
William Peter Blatty
...
Best Screenplay - Motion Picture
William Friedkin
...
Best Director - Motion Picture
Box Office Data
U.S. Dollars (includes anniversary re-release)
Budget
...
$11,000,000
Opening weekend
...
$8,175,666
Gross (US & Canada)
...
$232,906,145
Gross (World)
...
$441,306,145
Poster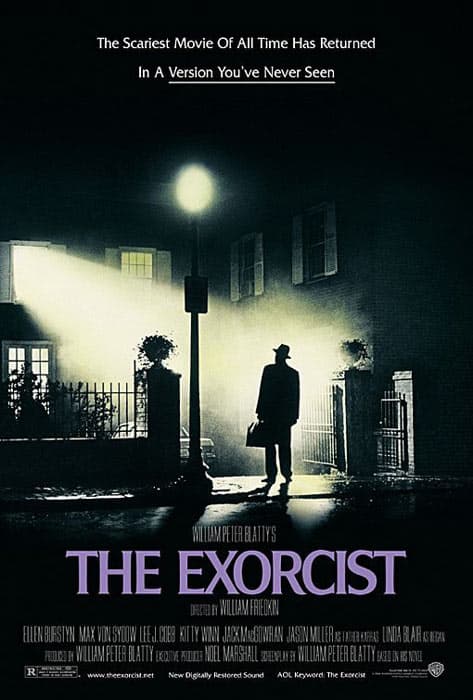 Looking For Something Else?
If you can't find what you're looking for here, send us an email. We take requests, too!
If you're searching for a specific movie or TV show/series, please let us know. 8FLiX has more than 10,000 scripts and screenplays. Not all are currently listed here. Eventually, they'll all be available to download (but certainly not in your lifetime). To avoid waiting decades for 8FLiX to add the script that you're looking for, send us an email. You still may have to wait, but it'll be days rather than generations.