Discover the episode guide, facts and series transcripts and scripts.
Here's what we have on AppleTV's, "Defending Jacob". And, you can also read and download the transcripts, here, at 8FLiX.
An assistant DA's world is shattered when his beloved son gets charged with murder. AppleTV+
"Defending Jacob" Status Report.
What we know and what we don't.
Here are the basics:
"Defending Jacob" is considered a limited series (also called miniseries). So, basically, a pre-determined number of episodes were made to tell the whole story.
That being said, there are no plans to extend the series beyond its current 8 episodes.
Discover the "Defending Jacob" transcripts, episode guide, facts and more!
Before downloading what we have, take a look around.
Meet the cast and writers of AppleTV+'s "Defending Jacob". Also, get the poster while you surf over to the official website and discover other sources. CLICK or TAP the SUPPLEMENTS button for more.
And, for the "Defending Jacob" scripts, transcripts, episode summaries and more, keep scrolling!
Cast
Notable Cast
Chris Evans
...
Andy Barber
Michelle Dockery
...
Laurie Barber
Jaeden Martell
...
Jacob Barber
Cherry Jones
...
Joanna Klein
Pablo Schreiber
...
Neal Loguidice
Betty Gabriel
...
Pam Duffy
Sakina Jaffrey
...
Lynn Canavan
Ben Taylor
...
Derek Yoo
Daniel Henshall
...
Leonard Patz
Jordan Alexa Davis
...
Sarah Grohl
Megan Byrne
...
Joan Rifkin
Poorna Jagannathan
...
Elizabeth Vogel
Tamara Hickey
...
Toby
Patrick Fischler
...
Dan Rifkin
Ted Arcidi
...
Kingston
Hale Lytle
...
Matt McGrath
Maria Elena Ramirez
...
Cara
Carrie Ann Quinn
...
Kathleen
Frankie Francois
...
Sienna
Evan Risser
...
6-Year-Old Andy
Liam Kilbreth
...
Ben Rifkin
J.K. Simmons
...
Billy Barber
Devon Diep
...
Reiko
Shawn Fitzgibbon
...
Detective Peterson
Therese Plaehn
...
Lita McGrath
Myra Lucretia Taylor
...
Judge Rivera
Writing Team
Writers
Mark Bomback
...
Writer (teleplay)
William Landay
...
Writer (novel)
Poster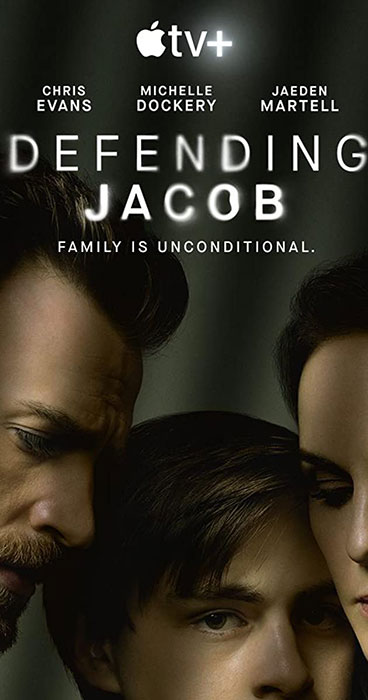 Here's our stash of "Defending Jacob" scripts, transcripts and other swag.
Have a look at our "Defending Jacob" scripts and transcripts from each season. You can go ahead and CLICK or TAP the button to go directly to the transcripts page.
For the TELEPLAY version, look for the appropriately labelled button.