Scripts, pix, analysis and more! Here's what we have on the Netflix series "The Umbrella Academy".
Netflix TV Series

•

2019 -

CURRENT

•

Action/Adventure, Comedy
SEASON 3 is in

PRODUCTION

until August 10, 2021
Information is topical as of

04/10/2021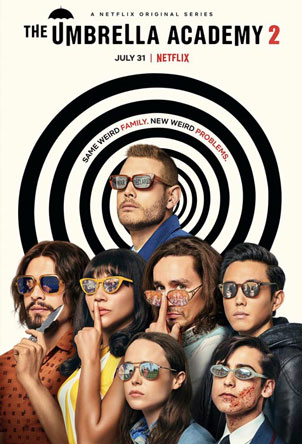 Discover More "The Umbrella Academy" Scripts, Pix, & Analysis
Meet the cast and writers of Netflix's "The Umbrella Academy". Also, get the poster and surf over to the official websites and other sources. CLICK or TAP the SUPPLIMENTS button for more.
And, for more "The Umbrella Academy" scripts, pix and analysis, keep scrolling (or swiping, if that's your thing)!
RELEASE YEAR: 2020
Blasted back in time to 1960s Dallas, the scattered siblings build new lives for themselves — until a new doomsday threat pulls them back together.
RELEASE YEAR: 2019
Reunited by their father's death, estranged siblings with extraordinary powers uncover shocking family secrets -- and a looming threat to humanity.
Discover more than 1000 "The Umbrella Academy" photos you can download, share, and comment on! production stills, posters, and exclusive screenshots.
Our Algorithms Think You May Also Like
(But we/they have been wrong before)
Search Our Screenplay & Script Library
If you can't find what you're looking for here, send us an email.
We literally have over 10,000 movie screenplays and TV scripts; but it takes a long time to post each one online. Shoot us an email, or contact us on our Social Platforms if you're looking for something specific.