Harry Potter and the Deathly Hallows: Part 1
Discover the plot, cast, script and facts from the 2010 movie.
Here's what we have on David Yates's, "Harry Potter and the Deathly Hallows: Part 1". And, you can also read and download the official screenplay, here, at 8FLiX.
"Harry Potter and the Deathly Hallows: Part 1" Plot Summary.
In the first part of the seventh and final adventure, Harry, Ron and Hermione set out on their perilous mission to track down and destroy the secret to Voldemort's immortality and destruction -- the Horcruxes. On their own, without the guidance of their professors or the protection of Dumbledore, the three friends must now rely on one another more than ever. But there are Dark Forces in their midst that threaten to tear them apart.
Discover the "Harry Potter and the Deathly Hallows: Part 1" script, cast, clips, and more!
Before downloading the screenplay, have a look at this.
Meet the cast and crew of "Harry Potter and the Deathly Hallows: Part 1". Also, read the box office and budget data while you surf over to the official website and discover other sources. CLICK or TAP the SUPPLEMENTS button for more.
And, for the "Harry Potter and the Deathly Hallows: Part 1" script, CLICK OR TAP the DOWNLOAD PAGE button to go directly to the screenplay page.
Cast
Notable Cast
Bill Nighy
...
Minister Rufus Scrimgeour
Emma Watson
...
Hermione Granger
Richard Griffiths
...
Vernon Dursley
Harry Melling
...
Dudley Dursley
Daniel Radcliffe
...
Harry Potter
Julie Walters
...
Molly Weasley
Bonnie Wright
...
Ginny Weasley
Rupert Grint
...
Ron Weasley
Michelle Fairley
...
Mrs. Granger
Fiona Shaw
...
Petunia Dursley
Alan Rickman
...
Professor Severus Snape
Carolyn Pickles
...
Charity Burbage
Ralph Fiennes
...
Lord Voldemort
Helena Bonham Carter
...
Bellatrix Lestrange
Helen McCrory
...
Narcissa Malfoy
Jason Isaacs
...
Lucius Malfoy
Tom Felton
...
Draco Malfoy
Timothy Spall
...
Wormtail
Michael Gambon
...
Professor Albus Dumbledore
David Ryall
...
Elphias Doge
Robbie Coltrane
...
Rubeus Hagrid
Brendan Gleeson
...
Alastor 'Mad-Eye' Moody
James Phelps
...
Fred Weasley
Oliver Phelps
...
George Weasley
Mark Williams
...
Arthur Weasley
George Harris
...
Kingsley Shacklebolt
Andy Linden
...
Mundungus Fletcher
Domhnall Gleeson
...
Bill Weasley
David Thewlis
...
Remus Lupin
John Hurt
...
Ollivander
Frances de la Tour
...
Madame Maxime
Evanna Lynch
...
Luna Lovegood
Rhys Ifans
...
Xenophilius Lovegood
Matthew Lewis
...
Neville Longbottom
Devon Murray
...
Seamus Finnigan
Katie Leung
...
Cho Chang
Toby Jones
...
Dobby (voice)
Adrian Rawlins
...
James Potter
Geraldine Somerville
...
Lily Potter
Miranda Richardson
...
Rita Skeeter
Dave Legeno
...
Fenrir Greyback
Samuel Roukin
...
Snatcher
Warwick Davis
...
Griphook
Box Office Data
(2010) USD / GBP
Budget
...
£150,000,000
Opening weekend
...
$125,017,372
Gross (US & Canada)
...
$296,347,721
Gross (World)
...
$976,998,674
Poster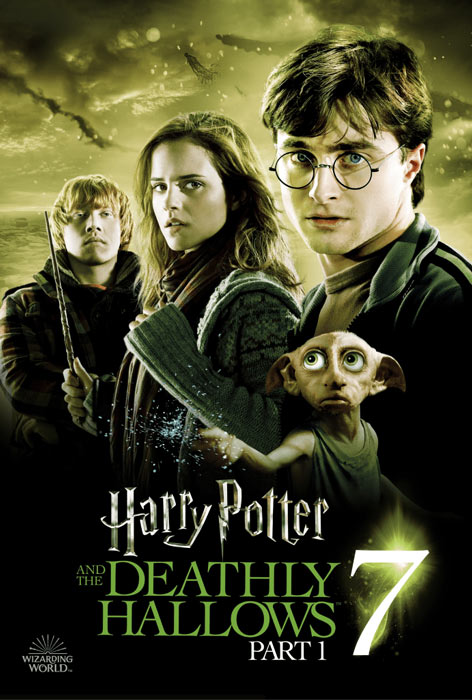 Looking For Something Else?
If you can't find what you're looking for here, send us an email. We take requests, too!
If you're searching for a specific movie or TV show/series, please let us know. 8FLiX has more than 10,000 scripts and screenplays. Not all are currently listed here. Eventually, they'll all be available to download (but certainly not in your lifetime). To avoid waiting decades for 8FLiX to add the script that you're looking for, send us an email. You still may have to wait, but it'll be days rather than generations.
Follow Harry through his years at Hogwarts School of Witchcraft and Wizardry. You can read and download all eight original screenplays, free, right here at 8FLiX.