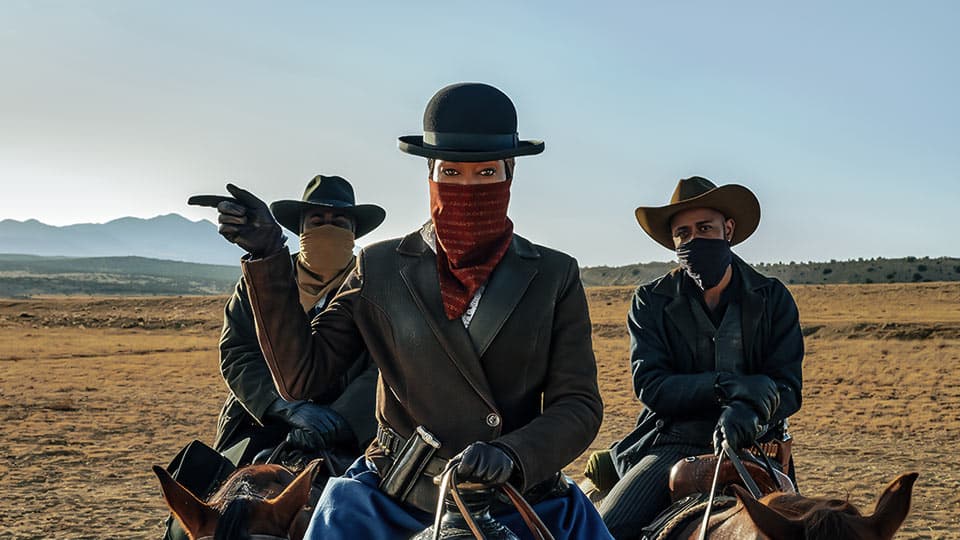 Plot, cast, facts and script from the 2021 movie written by Jeymes Samuel and Boaz Yakin.
Here's what we have on Netflix's "The Harder They Fall." And, you can also read and download the original screenplay, here, at 8FLiX. "The Harder They Fall" Plot Summary.
124 min
|
Action, Drama, Western
When outlaw Nat Love discovers that his enemy Rufus Buck is being released from prison he rounds up his gang to track Rufus down and seek revenge.

Those riding with him include his former love Stagecoach Mary, his right and left hand men - hot-tempered Bill Pickett and fast drawing Jim Beckwourth - and a surprising adversary-turned-ally.

Rufus Buck has his own fearsome crew, including "Treacherous" Trudy Smith and Cherokee Bill, and they are not a group that knows how to lose. Netflix
Discover "The Harder They Fall" script, cast, facts and more!
Before downloading the screenplay, have a look at this.
Let's meet the cast and writers. Also, read the box office and budget data while you surf over to the official website and discover other sources. Go ahead and CLICK or TAP the SUPPLEMENTS button.
And, for "The Harder They Fall" script, CLICK or TAP the DOWNLOAD button to go directly to the screenplay page.
Cast
Notable Cast
Chase Dillon
...
Young Nat
DeWanda Wise
...
Eleanor Love
Julio Cesar Cedillo
...
Jesus Cortez
Jonathan Majors
...
Nat Love
Manny Rubio
...
Father Esparza
Edi Gathegi
...
Bill Pickett
Damon Wayans Jr.
...
Monroe Grimes
Woody McClain
...
Clyde Grimes
RJ Cyler
...
Jim Beckwourth
Danielle Deadwyler
...
Cuffee
Torrey B. Lawrence
...
Saloon Hardcase
Zazie Beetz
...
Mary Fields
Araxi Lindsey
...
Tambourine Player
Fatima Robinson
...
Guitar Player
Regina King
...
Trudy Smith
G. Mac Brown
...
Train Driver
LaKeith Stanfield
...
Cherokee Bill
Jacobi Howard
...
Angel
Tait Fletcher
...
Big Man on Train
Mickey Dolan
...
Young Soldier
Dylan Kenin
...
Lt. Gen. Abbott
Idris Elba
...
Rufus Buck
Delroy Lindo
...
Bass Reeves
Kevin Phillips
...
Ben Hodges
Mark Rhino Smith
...
Carson
Deon Cole
...
Wiley Escoe
Writing Team
Screenwriters
Jeymes Samuel
...
Writer (screen story/screenplay)
Boaz Yakin
...
Writer (screenplay)
Awards
Poster