See the plot, cast, facts, and script from the 1972 masterpiece written by Mario Puzo and Francis Ford Coppola.
Here's what we have on Francis Ford Coppola's, "The Godfather". And, you can also read and download the official screenplay, here, at 8FLiX.
"The Godfather" Plot Summary.
An organized crime dynasty's aging patriarch transfers control of his clandestine empire to his reluctant son.
Discover "The Godfather" plot, cast, facts and more!
Before downloading "The Godfather" movie screenplay, have a look at this.
Meet the cast and writers of "The Godfather". Also, read the box office and budget data while you surf over to the official website and discover other sources. CLICK or TAP the SUPPLEMENTS button for more.
And, for the script, CLICK OR TAP the DOWNLOAD PAGE button to go directly to the screenplay page.
Cast
Notable Cast
Marlon Brando
...
Don Vito Corleone
Al Pacino
...
Michael Corleone
James Caan
...
Sonny Corleone
Richard S. Castellano
...
Clemenza
Robert Duvall
...
Tom Hagen
Sterling Hayden
...
Capt. McCluskey
John Marley
...
Jack Woltz
Richard Conte
...
Barzini
Al Lettieri
...
Sollozzo
Diane Keaton
...
Kay Adams
Abe Vigoda
...
Tessio
Talia Shire
...
Connie
Gianni Russo
...
Carlo
John Cazale
...
Fredo
Rudy Bond
...
Cuneo
Al Martino
...
Johnny Fontane
Morgana King
...
Mama Corleone
Lenny Montana
...
Luca Brasi
John Martino
...
Paulie Gatto
Salvatore Corsitto
...
Bonasera
Richard Bright
...
Neri
Alex Rocco
...
Moe Greene
Tony Giorgio
...
Bruno Tattaglia
Vito Scotti
...
Nazorine
Tere Livrano
...
Theresa Hagen
Victor Rendina
...
Philip Tattaglia
Jeannie Linero
...
Lucy Mancini
Julie Gregg
...
Sandra Corleone
Ardell Sheridan
...
Mrs. Clemenza
Simonetta Stefanelli
...
Apollonia - Sicilian Sequence
Awards
Notable Wins
Mario Puzo, Francis Ford Coppola
...
Best Writing, Screenplay Based on Material from Another Medium
Al Ruddy
...
Best Picture
Marlon Brando
("respectfully refused" the award in protest.)
...
Best Actor in a Leading Role
Mario Puzo, Francis Ford Coppola
...
Best Screenplay - Motion Picture
Nino Rota
...
Best Original Score - Motion Picture
Marlon Brando
(refused the award in protest.)
...
Best Actor in a Motion Picture - Drama
Francis Ford Coppola
...
Best Director - Motion Picture
Al Ruddy
...
Best Motion Picture - Drama
Box Office Data
(1972) U.S. Dollars
Budget
...
$6,000,000
Opening weekend
...
$302,393
Gross (US & Canada)
...
$134,966,411
Gross (World)
...
$246,120,986
Poster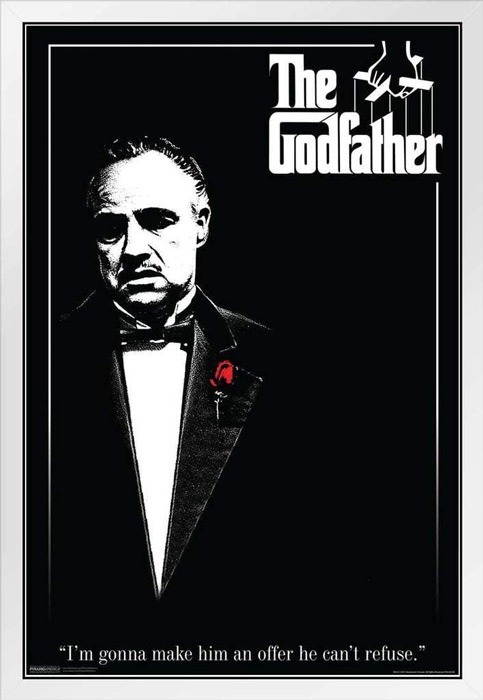 The American Film Institute calls "The Godfather" one of the best American films ever made. It's nearly a perfect masterpiece; a finely crafted work of art that should be a part of any movie-lover's collection.
Made for a miniscule $6,000,000 (USD), the film went on to gross more than a quarter-billion.
Looking For Something Else?
If you can't find what you're looking for here, send us an email. We take requests, too!
If you're searching for a specific movie or TV show/series, please let us know. 8FLiX has more than 10,000 scripts and screenplays. Not all are currently listed here. Eventually, they'll all be available to download (but certainly not in your lifetime). To avoid waiting decades for 8FLiX to add the script that you're looking for, send us an email. You still may have to wait, but it'll be days rather than generations.