Discover the episode guide, facts and series transcripts and scripts.
Here's what we have on Netflix's, "Sweet Tooth". And, you can also read and download the transcripts, here, at 8FLiX.
A boy who is half human and half deer survives in a post-apocalyptic world with other hybrids. Netflix
"Sweet Tooth" Status Report.
What we know and what we don't.
Here are the basics:
On May 3, 2023, Netflix announced that season 3 of "Sweet Tooth" will be the final. Read the full press release at Netflix's Tudum.
PREVIOUS UPDATES:
Oanh Ly ("Chilling Adventures of Sabrina") will join as an co-executive producer for season 2.
"Sweet Tooth" is produced by Team Downey (Susan Downey, Robert Downey Jr., Amanda Burrell) in association with Warner Bros. Television
"Sweet Tooth" is based on the DC comic book series by Jeff Lemire
Season 1 of "Sweet Tooth" premiered June 4, 2021;  60 million member households streamed the series within the first four weeks.
On June 6, 2022, Netflix announced that season 2 of "Sweet Tooth" has wrapped production. (WATCH)
On July 29, 2021, Netflix renewed "Sweet Tooth" for a second season. There will be 8 episodes, approximately 1 hour running time.
Discover the "Sweet Tooth" scripts, cast, facts and more!
Before downloading what we have, take a look around.
Meet the cast and writers of Netflix's "Sweet Tooth". Also, get the poster while you surf over to the official website and discover other sources. CLICK or TAP the SUPPLEMENTS button for more.
And, for the "Sweet Tooth" scripts, transcripts, episode summaries and more, keep scrolling!
Cast
Notable Cast
Nonso Anozie
...
Tommy Jepperd
Christian Convery
...
Gus
Stefania LaVie Owen
...
Bear
Dania Ramirez
...
Aimee
James Brolin
...
Narrator
Adeel Akhtar
...
Aditya Singh
Aliza Vellani
...
Rani Singh
Naledi Murray
...
Wendy
Will Forte
...
Pubba
Alice May Connolly
...
Samantha
Andrew Laing
...
Bob
Sarah Peirse
...
Dr. Bell
Neil Sandilands
...
General Abbot
Dallas Barnett
...
Delivery Last Man
Kawhia Chambers
...
Lead Last Man
Conan Hayes
...
Pony
Kiri Rose Kendall
...
Twyla
Jodie Rimmer
...
Judy
Amy Seimetz
...
Birdie
Marlon Williams
...
Johnny Abbot
Mia Artemis
...
Tiger
Writing Team
Series Writers
Jim Mickle
...
Writer (created by)
Beth Schwartz
...
Writer (created by)
Jeff Lemire
...
Writer (comics)
Justin Boyd
...
Writer
Noah Griffith
...
Writer
Christina Ham
...
Writer
Haley Harris
...
Writer
Daniel Stewart
...
Writer
Michael R. Perry
...
Writer
Poster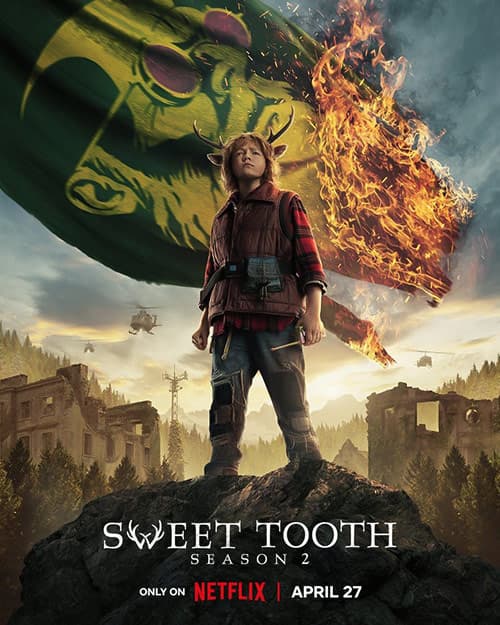 Here's our stash of "Sweet Tooth" scripts, transcripts and other swag.
We have both transcripts and teleplays!
Have a look at our "Sweet Tooth" scripts and transcripts from each season. You can go ahead and CLICK or TAP the button to go directly to the transcripts page.
For the TELEPLAY version, look for the appropriately labelled button.