Discover the episode guide, cast, facts, and series transcripts and scripts.
Here's what we have on Netflix's, "Sex Education". And, you can also read and download the transcripts, here, at 8FLiX.
A teenage boy with a sex therapist mother teams up with a high school classmate to set up an underground sex therapy clinic at school. Netflix
"Sex Education" Status Report.
What we know and what we don't.
Here are the basics:
The series concluded after four seasons and 32 episodes. So far, there are no plans for additional episodes. If that changes, we'll let you know.
Discover the "Sex Education" scripts, cast, facts and more!
Before downloading what we have, take a look around.
Meet the cast and writers of Netflix's "Sex Education". Also, get the poster while you surf over to the official website and discover other sources. CLICK or TAP the SUPPLEMENTS button for more.
And, for the "Sex Education" scripts, transcripts, episode summaries and more, keep scrolling!
Cast
Notable Series Cast
Asa Butterfield
...
Otis Milburn
Gillian Anderson
...
Jean Milburn
Ncuti Gatwa
...
Eric Effiong
Emma Mackey
...
Maeve Wiley
Connor Swindells
...
Adam Groff
Kedar Williams-Stirling
...
Jackson Marchetti
Aimee Lou Wood
...
Aimee Gibbs
Alistair Petrie
...
Michael Groff
Tanya Reynolds
...
Lily Iglehart
Patricia Allison
...
Ola Nyman
Jim Howick
...
Colin Hendricks
Mimi Keene
...
Ruby Matthews
Mikael Persbrandt
...
Jakob Nyman
Chaneil Kular
...
Anwar
Rakhee Thakrar
...
Emily Sands
Samantha Spiro
...
Maureen Groff
Simone Ashley
...
Olivia
Chris Jenks
...
Steve Morley
Hannah Waddingham
...
Sofia Marchetti
Sami Outalbali
...
Rahim
Lisa Palfrey
...
Cynthia
George Robinson
...
Isaac
Chinenye Ezeudu
...
Viv Odesanya
Writing Team
Series Writers
Laurie Nunn
...
Writer (created by)
Sophie Goodhart
...
Writer
Bisha K. Ali
...
Writer
Laura Hunter
...
Writer
Laura Neal
...
Writer
Freddy Syborn
...
Writer
Richard Gadd
...
Writer
Rosie Jones
...
Writer
Mawaan Rizwan
...
Writer
Poster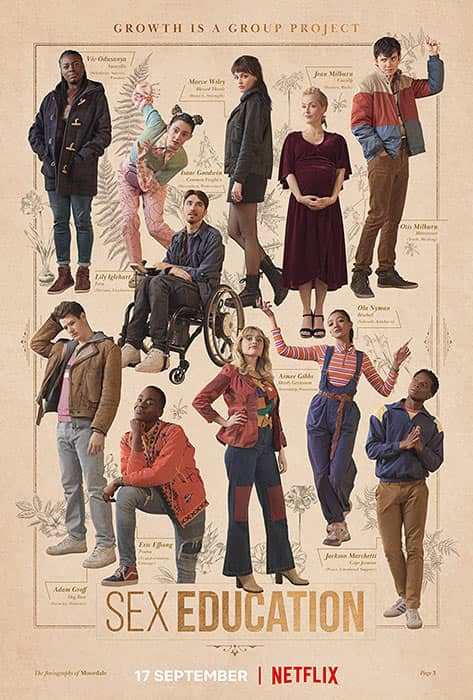 Here's our stash of "Sex Education" scripts, transcripts and other swag.
Have a look at our "Sex Education" scripts and transcripts from each season. You can go ahead and CLICK or TAP the button to go directly to the transcripts page.
For the TELEPLAY version, look for the appropriately labelled button.