Plot, cast, facts and script from the 2023 movie written by Christopher Nolan.
Here's what we have on "Oppenheimer"... the extraordinary biopic starring Cillian Murphy as the iconic J. Robert Oppenheimer, the "Father of the Atomic Bomb." And, you can also read and download the screenplay, here, at 8FLiX.

"Oppenheimer" Plot Summary.
Written and directed by Christopher Nolan, OPPENHEIMER explores the enigmatic man who must risk destroying the world in order to save it.

The film stars Cillian Murphy as J. Robert Oppenheimer and Emily Blunt as his wife, biologist and botanist Katherine "Kitty" Oppenheimer. Oscar® winner Matt Damon portrays General Leslie Groves Jr., director of the Manhattan Project, and Robert Downey, Jr. plays Lewis Strauss, a founding commissioner of the U.S. Atomic Energy Commission.

The film is based on the Pulitzer Prize-winning book American Prometheus: The Triumph and Tragedy of J. Robert Oppenheimer by Kai Bird and the late Martin J. Sherwin. Universal Pictures
Discover the "Oppenheimer" plot, cast, facts and more!
Before downloading the screenplay, have a look at this.
Let's meet the cast and writers. Also, read the box office and budget data while you surf over to the official website and discover other sources. Go ahead and CLICK or TAP the SUPPLEMENTS button.
And, for the "Oppenheimer" script, CLICK or TAP the DOWNLOAD PAGE button to go directly to the screenplay page.
Cast
Notable Cast
Cillian Murphy
...
J. Robert Oppenheimer
Emily Blunt
...
Kitty Oppenheimer
Robert Downey Jr.
...
Lewis Strauss
Alden Ehrenreich
...
Senate Aide
Scott Grimes
...
Counsel
Jason Clarke
...
Roger Robb
Kurt Koehler
...
Thomas Morgan
Tony Goldwyn
...
Gordon Gray
John Gowans
...
Ward Evans
Macon Blair
...
Lloyd Garrison
James D'Arcy
...
Patrick Blackett
Kenneth Branagh
...
Niels Bohr
Harry Groener
...
Senator McGee
Gregory Jbara
...
Chairman Magnuson
Ted King
...
Senator Bartlett
Tim DeKay
...
Senator Pastore
Steven Houska
...
Senator Scott
Tom Conti
...
Albert Einstein
David Krumholtz
...
Isidor Rabi
Petrie Willink
...
Dutch Student
Matthias Schweighöfer
...
Werner Heisenberg
Josh Hartnett
...
Ernest Lawrence
Alex Wolff
...
Luis Alvarez
Josh Zuckerman
...
Rossi Lomanitz
Rory Keane
...
Hartland Snyder
Michael Angarano
...
Robert Serber
Dylan Arnold
...
Frank Oppenheimer
Emma Dumont
...
Jackie Oppenheimer
Florence Pugh
...
Jean Tatlock
Sadie Stratton
...
Mary Washburn
Jefferson Hall
...
Haakon Chevalier
Britt Kyle
...
Barbara Chevalier
Guy Burnet
...
George Eltenton
Tom Jenkins
...
Richard Tolman
Matthew Modine
...
Vannevar Bush
Louise Lombard
...
Ruth Tolman
David Dastmalchian
...
William Borden
Michael Andrew Baker
...
Joe Volpe
Jeff Hephner
...
Congressman
Matt Damon
...
Leslie Groves
Writers
Writing Team
Christopher Nolan
...
Screenplay (adapted)
Martin Sherwin
...
Writer (novel)
Kai Bird
...
Writer (novel)
Box Office Data
(2023) U.S. Dollars (as of 11.09.2023)
Budget
...
$100,000,000
Opening weekend
...
$82,455,420
Gross (US & Canada)
...
$325,136,785
Gross (World)
...
$948,886,785
Poster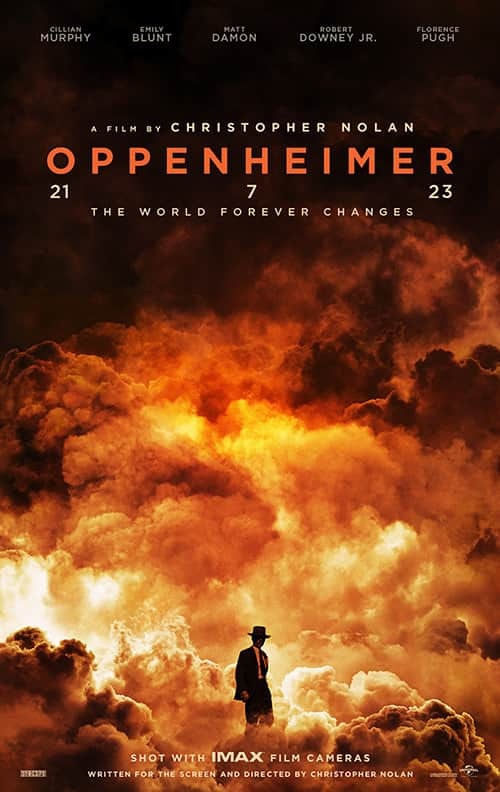 Looking For Something Else?
If you can't find what you're looking for here, send us an email. We take requests, too!
If you're searching for a specific movie or TV show/series, please let us know. 8FLiX has more than 10,000 scripts and screenplays. Not all are currently listed here. Eventually, they'll all be available to download (but certainly not in your lifetime). To avoid waiting decades for 8FLiX to add the script that you're looking for, send us an email. You still may have to wait, but it'll be days rather than generations.