Discover the episode guide, facts and series transcripts.
Here's what we have on Netflix's, "Lost in Space". And, you can also read and download the transcripts, here, at 8FLiX.
After crash-landing on an alien planet, the Robinson family fight against all odds to survive and escape, but they're surrounded by hidden dangers. Netflix
"Lost in Space" Status Report.
What we know and what we don't.
Here are the basics:
The final season of "Lost in Space" premiered December 1, 2021 on Netflix. The best 8 episodes of the entire three-season series. Everything clicks into place and moves along smoothly, like a well oiled Robot. Long-running storylines are wrapped; questions are answered. In short: Lost in Space 3 was worth the wait.
Although there are no official plans for an additional season, the final scene of episode 8 reminds us that the universe is huge. So much space out there, and so much more to explore. As one character put it: "But we all know things don't always work out the way we plan. The end -- of chapter one."
Discover the "Lost in Space" scripts, cast, facts and more!
Before downloading what we have, take a look around.
Meet the cast and writers of Netflix's "Lost in Space". Also, get the poster while you surf over to the official website and discover other sources. CLICK or TAP the SUPPLEMENTS button for more.
And, for the "Lost in Space" scripts, transcripts, episode summaries and more, keep scrolling!
Cast
Notable Series Cast
Maxwell Jenkins
...
Will Robinson
Molly Parker
...
Maureen Robinson
Toby Stephens
...
John Robinson
Taylor Russell
...
Judy Robinson
Mina Sundwall
...
Penny Robinson
Ignacio Serricchio
...
Don West
Parker Posey
...
Dr. Smith
Brian Steele
...
The Robot
Raza Jaffrey
...
Victor Dhar
Ajay Friese
...
Vijay Dhar
Amelia Burstyn
...
Diane
Sibongile Mlambo
...
Angela
Zehra Fazal
...
Jupiter Computer (Voice)
Shaun Parkes
...
Captain Radic
JJ Feild
...
Ben Adler
Yukari Komatsu
...
Naoko Watanabe
Douglas Hodge
...
Hastings
Sakina Jaffrey
...
Captain Kamal
Cary-Hiroyuki Tagawa
...
Hiroki Watanabe
Kiki Sukezane
...
Aiko Watanabe
Tattiawna Jones
...
Ava
Nevis Unipan
...
Samantha
Adam Greydon Reid
...
Peter Beckert
Rowan Schlosberg
...
Connor
Veenu Sandhu
...
Prisha Dhar
Viv Leacock
...
Reese
Aria DeMaris
...
Izabel Azevedo
Iain Belcher
...
Evan
Zya Acala
...
Elise
Amanda Marier
...
Samantha's Mom
Jon Cor
...
Resolute Officer
Selma Blair
...
Jessica Harris
Bill Mumy
...
Dr. Zachary Smith
Russell Hornsby
...
Grant Kelly
Writing Team
Series Writers
Irwin Allen
...
Writer (characters)
Matt Sazama
...
Writer (developed by)
Burk Sharpless
...
Writer (developed by)
Vivian Lee
...
Writer
Kari Drake
...
Writer
Daniel McLellan
...
Writer
Katherine Collins
...
Writer
Zack Estrin
...
Writer (show runner)
Ed McCardie
...
Writer
Shimon Wincelberg
...
Writer
Liz Sagal
...
Writer
Awards
Notable Wins (series)
Sofie Ljunggren, Douglas Roshamn, David Wahlberg, Fredrik Lönn
...
Outstanding Compositing in a Photoreal Episode
'Crash Site Rescue' for episode 101 'Impact'
Niklas Jacobson, Jabbar Raisani, Terron Pratt, Joao Sita
...
Outstanding Visual Effects in a Photoreal Episode
Episode 110: 'Danger, Will Robinson'
Paul Zeke, Andrew McCartney, Chad Shattuck, Julia Flanagan
...
Outstanding Animated Character in an Episode or Real-Time Project
'Humanoid'
Jason Martin, Kenny Vähäkari, Martin Bergquist, Philip Engström
...
Outstanding Created Environment in an Episode, Commercial, or Real-Time Project
'Impact Area' for episode 101 'Impact'
Poster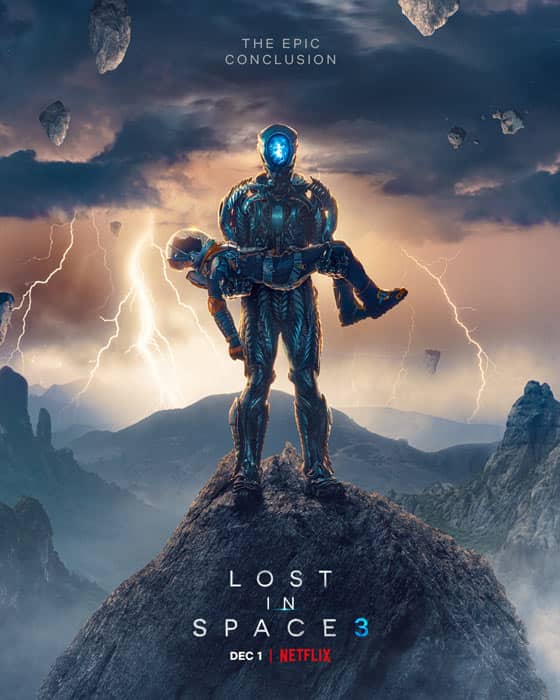 Here's our stash of "Lost in Space" scripts, transcripts and other swag.
Have a look at our "Lost in Space" scripts and transcripts from each season. You can go ahead and CLICK or TAP the button to go directly to the transcripts page.
For the TELEPLAY version, look for the appropriately labelled button.