Discover the episode guide, facts and series transcripts.
Here's what we have on Netflix's, "Locke & Key". And, you can also read and download the transcripts, here, at 8FLiX.
After their father is murdered under mysterious circumstances, the three Locke siblings and their mother move into their ancestral home, Keyhouse. Soon after, they begin discovering magical keys that could be connected to their father's death. Netflix
"Locke & Key" Status Report.
What we know and what we don't.
Here are the basics:
Season 3 of "Locke & Key" concludes the series. There are no plans to further the series.
Discover the "Locke & Key" scripts, cast, facts and more!
Before downloading what we have, take a look around.
Meet the cast and writers of Netflix's "Locke & Key". Also, get the poster while you surf over to the official website and discover other sources. CLICK or TAP the SUPPLEMENTS button for more.
And, for the "Locke & Key" scripts, transcripts, episode summaries and more, keep scrolling!
Cast
Notable Series Cast
Darby Stanchfield
...
Nina Locke
Connor Jessup
...
Tyler Locke
Emilia Jones
...
Kinsey Locke
Jackson Robert Scott
...
Bode Locke
Petrice Jones
...
Scot Cavendish
Sherri Saum
...
Ellie Whedon
Genevieve Kang
...
Jackie Veda
Hallea Jones
...
Eden Hawkins
Laysla De Oliveira
...
Dodge
Griffin Gluck
...
Gabe
Coby Bird
...
Rufus Whedon
Bill Heck
...
Rendell Locke
Thomas Mitchell Barnet
...
Sam Lesser
Aaron Ashmore
...
Duncan Locke
Steven Williams
...
Joe Ridgeway
Felix Mallard
...
Lucas Caravaggio
Eric Graise
...
Logan Calloway
Asha Bromfield
...
Zadie Wells
Kolton Stewart
...
Brinker Martin
Kevin Alves
...
Javi
Martin Roach
...
Detective Daniel Matuku
Nick Dolan
...
Young Rendell Locke
Jesse Camacho
...
Doug Brazelle
Nicole James
...
Young Erin Voss
Ellen Olivia Giddings
...
Young Kim Topher
André Dae Kim
...
Young Mark Cho
Sabrina Saudin
...
Young Ellie Whedon
Aidan Shaw
...
Young Jeff Ellis
Erica Pickering
...
Kinsey's Fear Monster
Kayla DeSouza
...
Younger Kinsey
Nicole Stamp
...
Nurse Ruth
Joy Tanner
...
Erin Voss
Ken Pak
...
Mark Cho
Owen Ois
...
Young Duncan Locke
Writing Team
Series Writers
Meredith Averill
...
Writer
Aron Eli Coleite
...
Writer
Carlton Cuse
...
Writer
Joe Hill
...
Writer
Gabriel Rodriguez
...
Writer
Elizabeth Ann Phang
...
Writer
Mackenzie Dohr
...
Writer
Andres Fischer-Centeno
...
Writer
Michael D. Fuller
...
Writer
Vanessa Rojas
...
Writer
Brett Treacy
...
Writer
Dan Woodward
...
Writer
Poster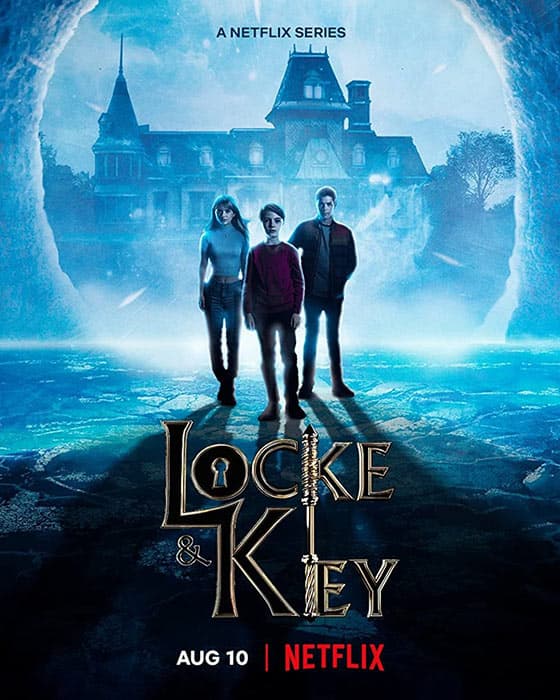 Here's our stash of "Locke & Key" scripts, transcripts and other swag.
Have a look at our "Locke & Key" scripts and transcripts from each season. You can go ahead and CLICK or TAP the button to go directly to the transcripts page.
For the TELEPLAY version, look for the appropriately labelled button.