Discover the episode guide, facts and series transcripts and scripts.
Here's what we have, so far, on the Amazon Original animated series, "Invincible."
An adult animated series based on the Skybound/Image comic about a teenager whose father is the most powerful superhero on the planet. Prime Video
"Invincible" Status Report.
What we know and what we don't.
Here are the basics:
Amazon made the announcement on April 29, 2021. "Invincible" has the been given the okay to produce two more seasons of the not-for-kids animated superhero series. Showrunner Robert Kirkman alongside Steven Yeun, who voices the show's main character, made the announcement on Twitter.
Discover the "Invincible" scripts, cast, facts and more!
Before downloading what we have, take a look around.
Meet the cast and writers of Amazon's "Invincible". Also, get the poster while you surf over to the official website and discover other sources. CLICK or TAP the SUPPLEMENTS button for more.
And, for the "Invincible" scripts, transcripts, episode summaries and more, keep scrolling!
Cast
Notable Cast
Steven Yeun
...
Mark Grayson / Invincible
Sandra Oh
...
Debbie Grayson
J.K. Simmons
...
Nolan Grayson / Omni-Man
Zazie Beetz
...
Amber Bennett
Grey Griffin
...
Monster Girl / Shrinking Rae / Olga / Amanda
Kevin Michael Richardson
...
Mauler Twins / Monster Girl / Flaxan Leader
Walton Goggins
...
Cecil Stedman
Gillian Jacobs
...
Atom Eve / Eve Wilkins / Samantha Eve Wilkins
Zachary Quinto
...
Robot
Andrew Rannells
...
William Clockwell
Jason Mantzoukas
...
Rex Splode / Rex Sloan
Khary Payton
...
Black Samson
Chris Diamantopoulos
...
Donald Ferguson / Doc Seismic / Isotope
Melise
...
Dupli-Kate / Kate Cha
Mark Hamill
...
Art Rosenbaum
Ross Marquand
...
The Immortal / Aquarus / Bi-Plane / Kursk / Rudy Connors
Clancy Brown
...
Damien Darkblood / Bryant
Fred Tatasciore
...
Eve's Father / Kill Cannon / Professor
Seth Rogen
...
Allen the Alien
Mahershala Ali
...
Titan
Max Burkholder
...
Matt
Jon Hamm
...
Steve
Gary Anthony Williams
...
Newscaster / Scientist / Umpire
Writing Team
Series Writers
Simon Racioppa
...
Showrunner
Robert Kirkman
...
Writer (created by)
Ryan Ottley
...
Writer (created by)
Cory Walker
...
Writer
Chris Black
...
Writer
Curtis Gwinn
...
Writer
Christine Lavaf
...
Writer
Ryan Ridley
...
Writer
Poster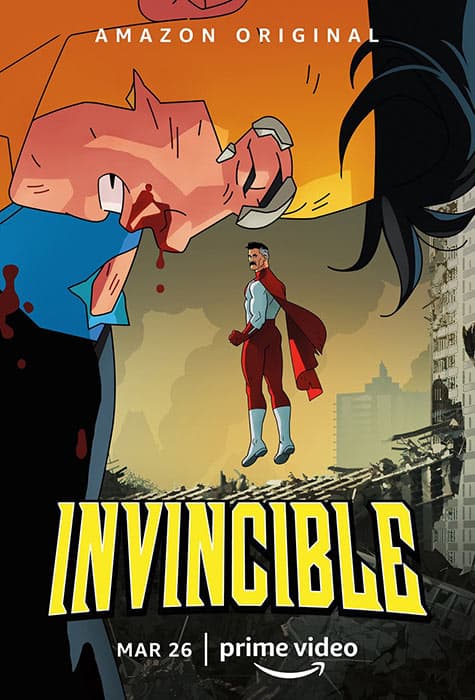 Here's our stash of "Invincible" scripts, transcripts and other swag.
Have a look at our "Invincible" scripts and transcripts from each season. You can go ahead and CLICK or TAP the button to go directly to the transcripts page.
For the TELEPLAY version, look for the appropriately labelled button.