Captain America: The First Avenger
Discover the plot, cast, script and facts from the 2011 movie.
Here's what we have on Marvel's, "Captain America: The First Avenger". And, you can also read and download the original screenplay, here, at 8FLiX.
"Captain America: The First Avenger" Plot Summary.
Marvel's CAPTAIN AMERICA: THE FIRST AVENGER focuses on the early days of the Marvel Universe when Steve Rogers volunteers to participate in an experimental program that turns him into the Super Soldier known as Captain America.
Discover the "Captain America: The First Avenger" script, cast and more!
Before downloading the screenplay, have a look at this.
Meet the cast and crew of "Captain America: The First Avenger". Also, read the box office and budget data while you surf over to the official website and discover other sources. CLICK or TAP the SUPPLEMENTS button for more.
And, for "The First Avenger" script, CLICK OR TAP the DOWNLOAD PAGE button to go directly to the screenplay page.
Cast
Notable Cast
Chris Evans
...
Captain America / Steve Rogers
Hayley Atwell
...
Peggy Carter
Sebastian Stan
...
James Buchanan 'Bucky' Barnes
Tommy Lee Jones
...
Colonel Chester Phillips
Hugo Weaving
...
Johann Schmidt / Red Skull
Dominic Cooper
...
Howard Stark
Richard Armitage
...
Heinz Kruger
Stanley Tucci
...
Dr. Abraham Erskine
Samuel L. Jackson
...
Nick Fury
Toby Jones
...
Dr. Arnim Zola
Neal McDonough
...
Timothy 'Dum Dum' Dugan
Derek Luke
...
Gabe Jones
Kenneth Choi
...
Jim Morita
JJ Feild
...
James Montgomery Falsworth
Bruno Ricci
...
Jacques Dernier
Lex Shrapnel
...
Gilmore Hodge
Michael Brandon
...
Senator Brandt
Writing Team
Screenwriters
Christopher Markus
...
Written by
Stephen McFeely
...
Written by
Awards
Box Office Data
(2011) U.S. Dollars
Budget
...
$140,000,000
Opening weekend
...
$65,058,524
Gross (US & Canada)
...
$176,654,505
Gross (World)
...
$370,569,774
Poster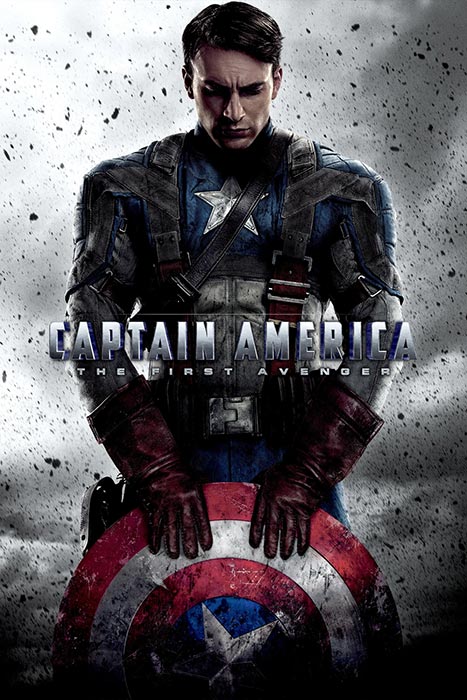 Looking For Something Else?
If you can't find what you're looking for here, send us an email. We take requests, too!
If you're searching for a specific movie or TV show/series, please let us know. 8FLiX has more than 10,000 scripts and screenplays. Not all are currently listed here. Eventually, they'll all be available to download (but certainly not in your lifetime). To avoid waiting decades for 8FLiX to add the script that you're looking for, send us an email. You still may have to wait, but it'll be days rather than generations.