Discover the episode guide, facts and series transcripts and scripts.
Here's what we have on Netflix's, "Atypical". And, you can also read and download the transcripts, here, at 8FLiX.
Sam, an 18-year-old on the autism spectrum, decides it's time to find a girlfriend, a journey that sets Sam's mom on her own life-changing path as her son seeks more independence. Netflix
"Atypical" Status Report.
What we know and what we don't.
Here are the basics:
Netflix's somewhat realistic drama about a teen on the autism spectrum, "Atypical", has wrapped.
All 38 episodes are streaming.
There are no plans to extend the series.
Discover the "Atypical" transcripts, episode guide, facts and more!
Before downloading what we have, take a look around.
Meet the cast and writers of Netflix's "Atypical". Also, get the poster while you surf over to the official website and discover other sources. CLICK or TAP the SUPPLEMENTS button for more.
And, for the "Atypical" scripts, transcripts, episode summaries and more, keep scrolling!
Cast
Notable Cast
Jennifer Jason Leigh
...
Elsa Gardner
Keir Gilchrist
...
Sam Gardner
Brigette Lundy-Paine
...
Casey Gardner
Michael Rapaport
...
Doug Gardner
Nik Dodani
...
Zahid
Graham Rogers
...
Evan
Amy Okuda
...
Julia Sasaki
Jenna Boyd
...
Paige
Fivel Stewart
...
Izzie
Nina Ameri
...
Luisa
Raúl Castillo
...
Nick
Angel Laketa Moore
...
Megan
Rachel Redleaf
...
Beth
Jeffrey Rosenthal
...
Bob
Domonique Brown
...
Jasper
Ariela Barer
...
Bailey Bennett
Christina Offley
...
Sharice
Wendy Braun
...
Kathy
Kevin Daniels
...
Coach Briggs
Casey Wilson
...
Ms. Whitaker
Michelle Farrah Huang
...
Tanya
Writers
Series Writers
Robia Rashid
...
Writer (created by)
Michael Oppenhuizen
...
Writer
D.J. Ryan
...
Writer
Nicole Betz
...
Writer
Jen Regan
...
Writer
Bob Smiley
...
Writer
Lauren Moon
...
Writer
Dennis Saldua
...
Writer
Ava Tramer
...
Writer
Theresa Mulligan
...
Writer
Annabel Oakes
...
Writer
Brian Tanen
...
Writer
Annie Mebane
...
Writer
Poster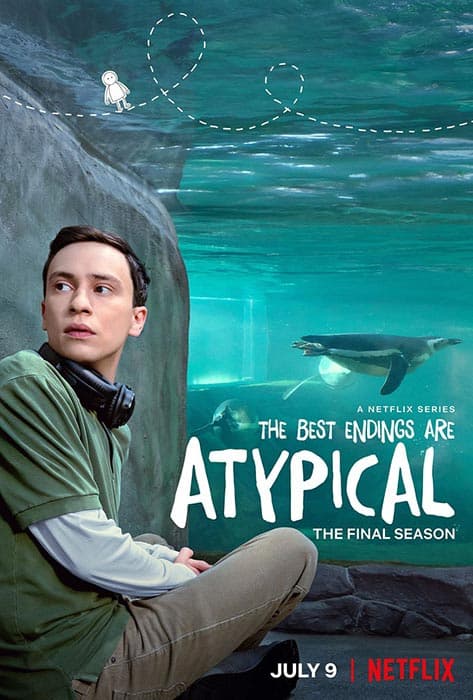 Here's our stash of "Atypical" scripts, transcripts and other swag.
Have a look at our "Atypical" scripts and transcripts from each season. You can go ahead and CLICK or TAP the button to go directly to the transcripts page.
For the TELEPLAY version, look for the appropriately labelled button.