Discover the episode guide, facts and transcripts from the animated series by Riot Games!
Here's what we have on Netflix's, "Arcane". And, you can also read and download the transcripts, here, at 8FLiX.
Amid the stark discord of twin cities Piltover and Zaun, two sisters fight on rival sides of a war between magic technologies and clashing convictions. Netflix
What we know and what we don't.
Here are the basics:
UPDATE: October 14, 2022:
Although there is a second season, there's still no word on when it will hit Netflix.
PREVIOUS UPDATES:
On November 20, 2021, the very day the final three episodes of season 1 were released, Netflix confirmed what we were all waiting for. Riot Games and co. have already started production on season 2.
No release date has been set. But, we'll keep you updated as we learn more.
Discover the "Arcane" transcripts, episode guide, facts and more!
Before downloading what we have, take a look around.
Meet the cast and writers of Netflix's "Arcane". Also, get the poster while you surf over to the official website and discover other sources. CLICK or TAP the SUPPLEMENTS button for more.
And, for the "Arcane" scripts, transcripts, episode summaries and more, keep scrolling!
Cast
Notable Cast
Kevin Alejandro
...
Jayce
Jason Spisak
...
Silco / Pim
Hailee Steinfeld
...
Vi
JB Blanc
...
Vander / Bolbok
Remy Hii
...
Marcus / Mr. Kiramman
Mia Sinclair Jenness
...
Powder
Harry Lloyd
...
Viktor
Dave B. Mitchell
...
Hoskel / Warden / Enforcer / Harold / Verne
Toks Olagundoye
...
Mel Medarda
Shohreh Aghdashloo
...
Grayson
Josh Keaton
...
Deckard / Salo / Customs Agent
Roger Craig Smith
...
Claggor
Amirah Vann
...
Sevika / Apothecary
Mick Wingert
...
Heimerdinger / Duty Captain
Miles Brown
...
Young Ekko
Katie Leung
...
Caitlyn
Mara Junot
...
Shoola / Female Enforcer / Jules
Erica Lindbeck
...
Elora
Yuri Lowenthal
...
Mylo
Ella Purnell
...
Jinx
Fred Tatasciore
...
Benzo / Master Crafter
Brett Tucker
...
Singed
Molly Harris
...
Young Caitlyn
Bill Lobley
...
Huck
Abigail Marlowe
...
Mrs. Kiramman / Lieutenant Eve
Reed Shannon
...
Firelight Leader
Joe Zieja
...
Punk / Thieram
Writing Team
Series Writers
Christian Linke
...
Writer (created by)
Alex Yee
...
Writer (created by)
Nick Luddington
...
Writer
Ash Brannon
...
Writer
David Dunne
...
Writer
Amanda Overton
...
Writer
Ben St. John
...
Writer
Mollie St. John
...
Writer
Poster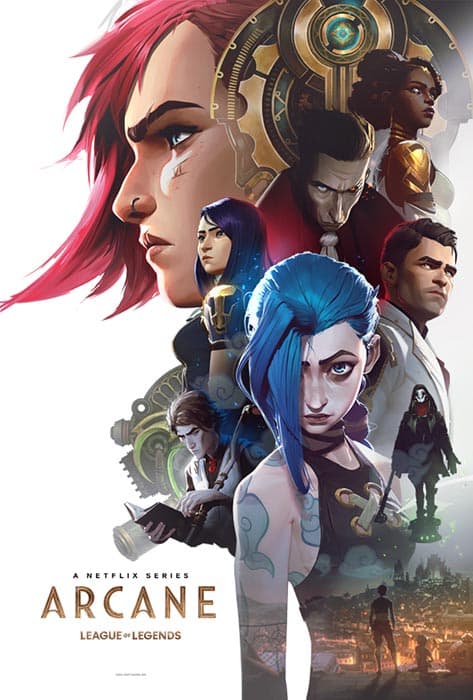 Here's our stash of "Arcane" scripts, transcripts and other swag.
Have a look at our "Arcane" scripts and transcripts from each season. You can go ahead and CLICK or TAP the button to go directly to the transcripts page.