Discover the episode guide, facts and series transcripts and scripts.
Here's what we have on Netflix's, "Altered Carbon". And, you can also read and download the transcripts, here, at 8FLiX.
Set in a future where consciousness is digitized and stored, a prisoner returns to life in a new body and must solve a mind-bending murder to win his freedom. Netflix
"Altered Carbon" Status Report.
What we know and what we don't.
Here are the basics:
"Altered Carbon" wrapped production after two seasons. Although the full series is available to watch on Netflix, there are no plans to extend past the current 18 episodes. If that changes, we'll let you know.
Discover the "Altered Carbon" transcripts, episode guide, facts and more!
Before downloading what we have, take a look around.
Meet the cast and writers of Netflix's "Altered Carbon". Also, get the poster while you surf over to the official website and discover other sources. CLICK or TAP the SUPPLEMENTS button for more.
And, for the "Altered Carbon" scripts, transcripts, episode summaries and more, keep scrolling!
Cast
Notable Cast
Chris Conner
...
Poe
Renée Elise Goldsberry
...
Quellcrist Falconer
Dichen Lachman
...
Reileen Kawahara
Will Yun Lee
...
Stronghold Kovacs
Martha Higareda
...
Kristin Ortega
Ato Essandoh
...
Vernon Elliot
Joel Kinnaman
...
Takeshi Kovacs
James Purefoy
...
Laurens Bancroft
Kristin Lehman
...
Miriam Bancroft
Trieu Tran
...
Mr. Leung
Hayley Law
...
Lizzie Elliot
Anthony Mackie
...
Takeshi Kovacs
Lela Loren
...
Danica Harlan
Simone Missick
...
Trepp
Dina Shihabi
...
Dig 301
Torben Liebrecht
...
Colonel Ivan Carrera
Hiro Kanagawa
...
Captain Tanaka
Waleed Zuaiter
...
Samir Abboud
Marlene Forte
...
Alazne Ortega
Antonio Marziale
...
Isaac Bancroft
Zahf Paroo
...
Curtis
James Saito
...
Tanaseda Hideki
Writing Team
Series Writers
Laeta Kalogridis
...
Writer (created by)
Richard Morgan
...
Writer (novel)
Nevin Densham
...
Writer
Cortney Norris
...
Writer
Elizabeth Padden
...
Writer
Steve Blackman
...
Writer
Russel Friend
...
Writer
Garrett Lerner
...
Writer
Brian Nelson
...
Writer
Casey Fisher
...
Writer
Sarah Nicole Jones
...
Writer
Sang Kyu Kim
...
Writer
Michael R. Perry
...
Writer
Alison Schapker
...
Writer
Cori Uchida
...
Writer
Awards
Notable Series Wins
Philipp Kratzer, Daniel Fernández, Xavier Lestourneaud, Andrea Rosa
...
Outstanding Effects Simulations in an Episode, Commercial, or Real-Time Project
Mark Allen, Austin Krier, Brett Hinton, Noel Vought, Owen Granich-Young
...
Outstanding Achievement in Sound Editing - Sound Effects and Foley for Episodic Long Form Broadcast Media
Poster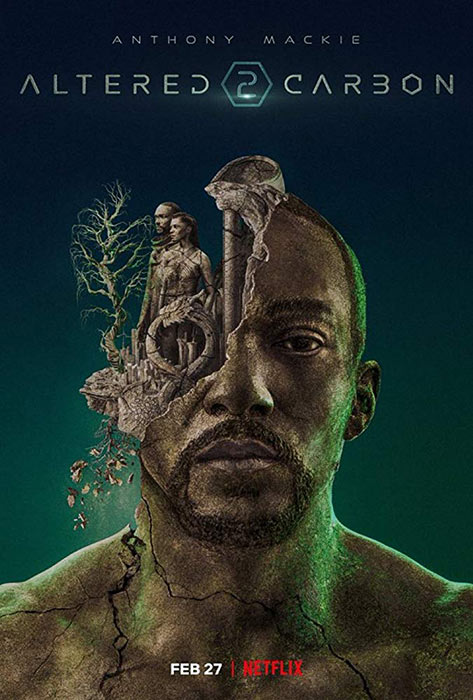 Here's our stash of "Altered Carbon" scripts and other swag.
Have a look at our "Altered Carbon" scripts and transcripts from each season. You can go ahead and CLICK or TAP the button to go directly to the transcripts page.
For the TELEPLAY version, look for the appropriately labelled button.