Discover the plot, cast, script and facts from the 2018 movie.
Here's what we have on Paul Greengrass's, "22 July". And, you can read and download the official screenplay, here, at 8FLiX.
After devastating terror attacks in Norway, a young survivor, grieving families and the country rally for justice and healing. Based on a true story.
Discover the "22 July" script, cast, facts and more!
Before downloading the screenplay, have a look at this.
Meet the cast and crew of "22 July". Also, read the box office and budget data while you surf over to the official website and discover other sources. CLICK or TAP the SUPPLEMENTS button for more.
And, for the script, CLICK OR TAP the DOWNLOAD PAGE button to go directly to the screenplay page.
Cast
Notable Cast
Anders Danielsen Lie
...
Anders Behring Breivik
Jonas Strand Gravli
...
Viljar Hanssen
Jon Øigarden
...
Geir Lippestad
Maria Bock
...
Christin Kristoffersen
Thorbjørn Harr
...
Sveinn Are Hanssen
Seda Witt
...
Lara Rachid
Isak Bakli Aglen
...
Torje Hanssen
Ola G. Furuseth
...
Prime Minister Jens Stoltenberg
Poster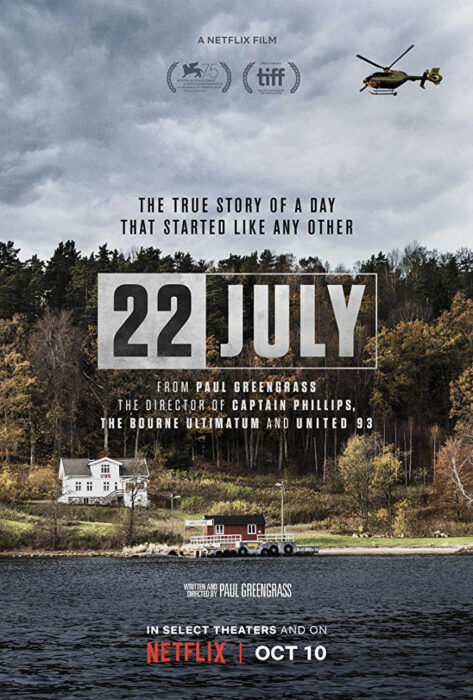 Paul Greengrass on making "22 July."
"I originally wanted to make a film about the migrant crisis. And I spent a fair amount of time researching what was happening in places like Lampedusa in southern Italy, and the realities of people trafficking."
"But the more I worked on it, the more obvious it became that fear of migration, together with continuing economic stagnation, was driving a profound change in our politics."
"The door was being opened to political extremism, across Europe. Across the West. With dangerous consequences I fear..."
"That's what lead me to make this film - because Anders Breivik and Norway shows us the consequences of this process in dramatic terms, and in ways relevant to all of us, wherever we live."
"Breivik saw himself - in his extreme narcissism - as raising the battle standard of extreme right-wing rebellion across the West."
"But the way the people of Norway responded after the attacks, which is what our film is really about - the way politicians, lawyers and most importantly those families caught up in the violence responded - can inspire all of us with their dignity and their tenacious commitment to democracy."
Looking For Something Else?
If you can't find what you're looking for here, send us an email. We take requests, too!
If you're searching for a specific movie or TV show/series, please let us know. 8FLiX has more than 10,000 scripts and screenplays. Not all are currently listed here. Eventually, they'll all be available to download (but certainly not in your lifetime). To avoid waiting decades for 8FLiX to add the script that you're looking for, send us an email. You still may have to wait, but it'll be days rather than generations.