Discover the episode guide, facts and series transcripts and scripts.
Here's what we have on Netflix's, "Squid Game". And, you can also read and download the transcripts, here, at 8FLiX.
Hundreds of cash-strapped players accept a strange invitation to compete in children's games. Inside, a tempting prize awaits — with deadly high stakes. Netflix
"Squid Game" Status Report.
What we know and what we don't.
Here are the basics:
UPDATE: September 12, 2022:
"Squid Game" won 6 Emmy awards, including Outstanding Lead Actor in a Drama Series for Lee Jung-jae.
UPDATE: July 12, 2022:
Nominated for 14 Emmy Awards. Read all about it, HERE. Winners will be announced on Monday, September 12, 2022.
UPDATE: June 12, 2022:
Netflix announced, with the help of series creator Hwang Dong-hyuk, that they've come to an agreement to produce a second season of "Squid Game." In a brief statement posted on Netflix's corporate news site, Dong-huk also said Gi-hun and The Front Man will return. And Young-hee's boyfriend, Cheol-su, will be introduced.
On November 9, 2021, in an interview with Variety, showrunner Hwang Dong-hyuk said that there will be a season 2 of "Squid Game". However, he also said, "it's too early to give any concrete details."
Discover the "Squid Game" scripts, cast, facts and more!
Before downloading what we have, take a look around.
Meet the cast and writers of Netflix's "Squid Game". Also, get the poster while you surf over to the official website and discover other sources. CLICK or TAP the SUPPLEMENTS button for more.
And, for the "Squid Game" scripts, transcripts, episode summaries and more, keep scrolling!
Cast
Notable Cast
Lee Jung-jae
...
Seong Gi-hun
Park Hae-soo
...
Cho Sang-woo
Greg Chun
...
Gi-Hun
Stephen Fu
...
Sang-Woo
Tom Choi
...
Frontman
Rama Vallury
...
Ali
Wi Ha-Joon
...
Hwang Jun-ho
Jung Hoyeon
...
Kang Sae-byeok
Paul Nakauchi
...
Deok-Su
Hideo Kimura
...
Il-Nam
Stephanie Komure
...
Mi-Nyeo
Vivian Lu
...
Sae-Byeok
Halley Kim
...
Mi-Ok
Oh Yeong-su
...
Oh Il-nam
Heo Sung-tae
...
Jang Deok-su
Anupam Tripathi
...
Ali Abdul
Kim Joo-Ryung
...
Han Mi-nyeo
Donald Chang
...
Jun-Ho
Lee Byung-hun
...
Frontman
Gong Yoo
...
The Salesman
Yuuki Luna
...
Ji-Yeong
Writer
Series Writer
Hwang Dong-hyuk
...
Writer (created by)
Poster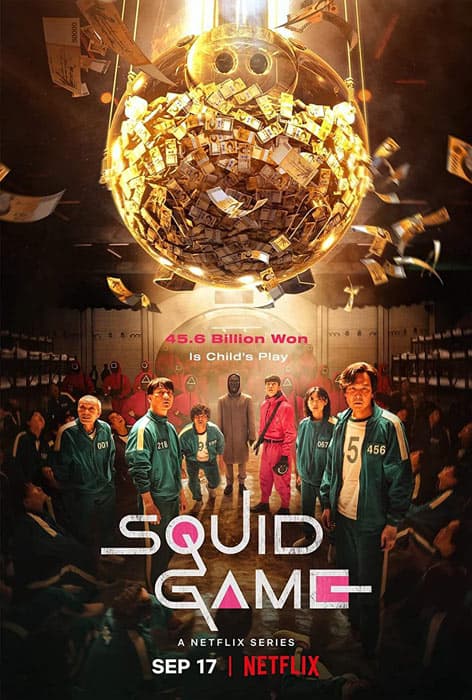 Here's our stash of "Squid Game" scripts, transcripts and other swag.
Have a look at our "Squid Game" scripts and transcripts from each season. You can go ahead and CLICK or TAP the button to go directly to the transcripts page.
For the TELEPLAY version, look for the appropriately labelled button.