See the plot, cast, facts, and script from the 1974 masterpiece written by Mario Puzo and Francis Ford Coppola.
Here's what we have on Francis Ford Coppola's, "The Godfather: Part II". And, you can also read and download the official screenplay, here, at 8FLiX.
"The Godfather: Part II" Plot Summary.
This brilliant companion piece to the original. The Godfather: Part II continues the saga of two generations of successive power within the Corleone family.
Discover "The Godfather: Part II" plot, cast, facts and more!
Before downloading the screenplay, have a look at this.
Meet the cast and writers of "The Godfather: Part II". Also, read the box office and budget data while you surf over to the official website and discover other sources. CLICK or TAP the SUPPLEMENTS button for more.
And, for the script, CLICK OR TAP the DOWNLOAD PAGE button to go directly to the screenplay page.
Cast
Notable Cast
Al Pacino
...
Michael
Robert Duvall
...
Tom Hagen
Diane Keaton
...
Kay
Robert De Niro
...
Vito Corleone
John Cazale
...
Fredo Corleone
Talia Shire
...
Connie Corleone
Lee Strasberg
...
Hyman Roth
Michael V. Gazzo
...
Frankie Pentangeli
G.D. Spradlin
...
Sen. Pat Geary
Richard Bright
...
Al Neri
Gastone Moschin
...
Fanucci
Tom Rosqui
...
Rocco Lampone
Bruno Kirby
...
Young Clemenza
Frank Sivero
...
Genco
Francesca De Sapio
...
Young Mama Corleone
Morgana King
...
Mama Corleone
Marianna Hill
...
Deanna Corleone
Leopoldo Trieste
...
Signor Roberto
Dominic Chianese
...
Johnny Ola
Amerigo Tot
...
Michael's Bodyguard
Troy Donahue
...
Merle Johnson
John Aprea
...
Young Tessio
Joe Spinell
...
Willi Cicci
Abe Vigoda
...
Tessio
Awards
Notable Wins
Francis Ford Coppola
...
Best Director
Robert De Niro
...
Best Actor in a Supporting Role
Carmine Coppola, Nino Rota
...
Best Music, Original Dramatic Score
Fred Roos, Gray Frederickson, Francis Ford Coppola
...
Best Picture
George R. Nelson, Dean Tavoularis, Angelo P. Graham
...
Best Art Direction-Set Decoration
Mario Puzo, Francis Ford Coppola
...
Best Writing, Screenplay Adapted From Other Material
Box Office Data
(1974) U.S. Dollars
Budget
...
$13,000,000
Opening weekend
...
$171,417
Gross (US & Canada)
...
$47,834,595
Gross (World)
...
$48,035,783
Poster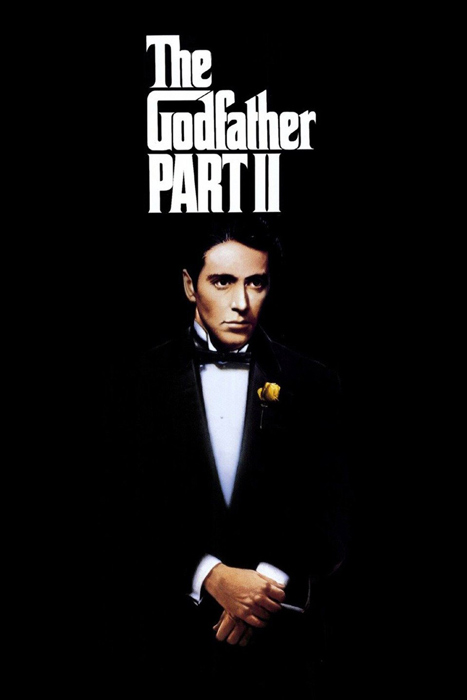 Coppola tells two stories in "The Godfather: Part II." The roots and rise of a young Don Vito, played with uncanny ability by Robert De Niro, and the ascension of Michael (Al Pacino) as the new Don. Coppola has produced a movie of staggering magnitude and vision, and undeniably the best sequel ever made.
Looking For Something Else?
If you can't find what you're looking for here, send us an email. We take requests, too!
If you're searching for a specific movie or TV show/series, please let us know. 8FLiX has more than 10,000 scripts and screenplays. Not all are currently listed here. Eventually, they'll all be available to download (but certainly not in your lifetime). To avoid waiting decades for 8FLiX to add the script that you're looking for, send us an email. You still may have to wait, but it'll be days rather than generations.