See the plot, cast, facts, and script from the 2021 movie written by Umair Aleem.
And, you can also read and download the screenplay, here, at 8FLiX.
Meticulous and skilled, Kate is the perfect specimen of a finely tuned assassin at the height of her game. But when she blows an assignment targeting a member of the yakuza in Tokyo, she quickly discovers that she's been poisoned. It's a brutally slow execution that gives Kate less than 24 hours to exact revenge on her killers. And as her body swiftly deteriorates, she forms an unlikely bond with the teenage daughter of one of her past victims.
Discover the "Kate" plot, cast, facts and more!
Before downloading the screenplay, have a look at this.
Meet the cast and writers of the action-packed, "Kate". Also, read the box office and budget data while you surf over to the official website and discover other sources. CLICK or TAP the SUPPLEMENTS button for more.
And, for the script, CLICK OR TAP the DOWNLOAD PAGE button to go directly to the screenplay page.
Cast
Notable Cast
Mary Elizabeth Winstead
...
Kate
Woody Harrelson
...
Varrick
Michiel Huisman
...
Stephen
Tadanobu Asano
...
Renji
Elysia Rotaru
...
Headset Voice (voice)
Miyavi
...
Jojima
Jun Kunimura
...
Kijima
Amelia Crouch
...
Teen Kate
Eoin O'Brien
...
Firm Operative
Patrick Newall
...
Security Sergeant
Ava Caryofyllis
...
Child Kate
Gemma Brooke Allen
...
Young Kate
Miku Patricia Martineau
...
Ani
Mari Yamamoto
...
Kanako
Ulf Pilblad
...
Wedding Guest
Cindy Sirinya Bishop
...
Mother
Kazuya Tanabe
...
Shinzo
Leigh Barwell
...
Host
Akihiko Sai
...
Bulky Yakuza
Mav Kang
...
Security Agent
Hirotaka Renge
...
Specialist
Writer
Screenwriter
Umair Aleem
...
Screenplay
Poster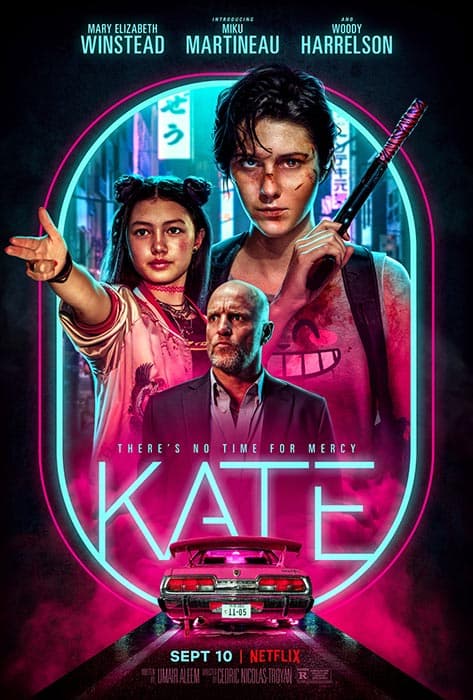 Looking For Something Else?
If you can't find what you're looking for here, send us an email. We take requests, too!
If you're searching for a specific movie or TV show/series, please let us know. 8FLiX has more than 10,000 scripts and screenplays. Not all are currently listed here. Eventually, they'll all be available to download (but certainly not in your lifetime). To avoid waiting decades for 8FLiX to add the script that you're looking for, send us an email. You still may have to wait, but it'll be days rather than generations.