Chilling Adventures of Sabrina
Discover the episode guide, cast, facts, and series transcripts and scripts.
Here's what we have on Netflix's, "Chilling Adventures of Sabrina". And, you can also read and download the transcripts, here, at 8FLiX.
As her 16th birthday nears, Sabrina must choose between the witch world of her family and the human world of her friends. Netflix
"Chilling Adventures of Sabrina" Status Report.
What we know and what we don't.
Here are the basics:
"Chilling Adventures of Sabrina" wrapped production after four seasons. Although the full series is still available to watch on Netflix, there are no plans to extend beyond the current 36 episodes.
Discover the "Chilling Adventures of Sabrina" transcripts, episode guide, facts and more!
Before downloading what we have, take a look around.
Meet the cast and writers of Netflix's "Chilling Adventures of Sabrina". Also, get the poster while you surf over to the official website and discover other sources. CLICK or TAP the SUPPLEMENTS button for more.
And, for the scripts, transcripts, episode summaries and more, keep scrolling!
Cast
Notable Cast
Kiernan Shipka
...
Sabrina Spellman
Ross Lynch
...
Harvey Kinkle
Lucy Davis
...
Hilda Spellman
Chance Perdomo
...
Ambrose Spellman
Michelle Gomez
...
Mary Wardwell
Jaz Sinclair
...
Rosalind Walker
Tati Gabrielle
...
Prudence Night
Adeline Rudolph
...
Agatha
Richard Coyle
...
Father Faustus Blackwood
Miranda Otto
...
Zelda Spellman
Lachlan Watson
...
Theo Putnam
Gavin Leatherwood
...
Nicholas Scratch
Abigail Cowen
...
Dorcas
Tyler Cotton
...
Melvin
Ty Wood
...
Billy Marlin
Peter Bundic
...
Carl Tapper
Nelson Leis
...
Beelzebub
Skye P. Marshall
...
Mambo Marie
Jedidiah Goodacre
...
Dorian Gray
Alessandro Juliani
...
Dr. Cee
Christopher Rosamond
...
Mr. Kinkle
Emily Haine
...
Elspeth
Donald Sales
...
Purson
Darren Mann
...
Luke Chalfant
Adrian Hough
...
Farmer Putnam
Bronson Pinchot
...
Principal George Hawthorne
Luke Cook
...
Lucifer Morningstar
Sam Corlett
...
Caliban
John Murphy
...
Asmodeus
Annette Reilly
...
Diana Spellman
Jonathan Whitesell
...
Robin Goodfellow
Georgie Daburas
...
Edward Spellman
Justin Dobies
...
Tommy Kinkle
Writing Team
Series Writers
Roberto Aguirre-Sacasa
...
Developer / Writer
Oanh Ly
...
Writer
Donna Thorland
...
Writer
Joshua Conkel
...
Writer
Ross Maxwell
...
Writer
Matthew Barry
...
Writer
Lindsay Calhoon Bring
...
Writer
Christianne Hedtke
...
Writer
Christina Ham
...
Writer
Mj Kaufman
...
Writer
Axelle Carolyn
...
Writer
Daniel King
...
Writer
Poster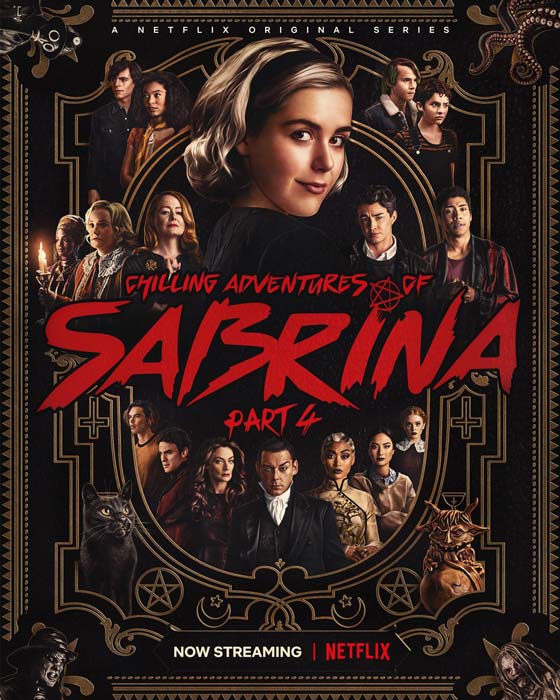 Here's our stash of "Chilling Adventures of Sabrina" scripts, transcripts and other swag.
Have a look at our "Chilling Adventures of Sabrina" scripts and transcripts from each season. You can go ahead and CLICK or TAP the button to go directly to the transcripts page.
For the TELEPLAY version, look for the appropriately labelled button.