Discover the plot, cast, facts, and script from the 2021 movie written by Jon Spaihts, Denis Villeneuve, and Eric Roth.
Here's what we have on Denis Villeneuve's, "Dune" starring Timothée Chalamet and Zendaya. And, you can also read and download the original screenplay, here, at 8FLiX.
DUNE tells the story of Paul Atreides, a brilliant and gifted young man born into a great destiny beyond his understanding. He must must travel to the most dangerous planet in the universe to ensure the future of his family and his people. As malevolent forces explode into conflict over the planet's exclusive supply of the most precious resource in existence. It's a valuable commodity capable of unlocking humanity's greatest potential and only those who can conquer their fear will survive. Warner Bros.
Discover the "Dune" plot, cast, facts and more!
Before downloading the screenplay, have a look at this.
Let's meet the cast and writers. Also, read the box office and budget data while you surf over to the official website and discover other sources. Go ahead and CLICK or TAP the SUPPLEMENTS button.
And, for the "Dune" script, CLICK or TAP the DOWNLOAD PAGE button to go directly to the screenplay page.
Cast
Notable Cast
Timothée Chalamet
...
Paul Atreides
Rebecca Ferguson
...
Lady Jessica Atreides
Oscar Isaac
...
Duke Leto Atreides
Jason Momoa
...
Duncan Idaho
Stellan Skarsgård
...
Baron Vladimir Harkonnen
Stephen McKinley Henderson
...
Thufir Hawat
Josh Brolin
...
Gurney Halleck
Javier Bardem
...
Stilgar
Sharon Duncan-Brewster
...
Dr. Liet Kynes
Chang Chen
...
Dr. Wellington Yueh
Dave Bautista
...
Beast Rabban Harkonnen
David Dastmalchian
...
Piter de Vries
Zendaya
...
Chani
Charlotte Rampling
...
Reverend Mother Mohiam
Babs Olusanmokun
...
Jamis
Benjamin Clémentine
...
Herald of the Change
Souad Faress
...
Bene Gesserit Sister
Golda Rosheuvel
...
Shadout Mapes
Roger Yuan
...
Lieutenant Lanville
Writing Team
Screenwriters
Jon Spaihts
...
Writer (screenplay)
Denis Villeneuve
...
Writer (screenplay)
Eric Roth
...
Writer (screenplay)
Frank Herbert
...
Writer (novel)
Box Office Data
(2022) U.S. Dollars (as of 10.28.2022)
Budget
...
$165,000,000
Opening weekend
...
$41,011,174
Gross (US & Canada)
...
$108,327,830
Gross (World)
...
$401,847,900
Awards
Notable Wins
Greig Fraser
...
Best Achievement in Cinematography
Mac Ruth, Theo Green, Doug Hemphill, Ron Bartlett, Mark A. Mangini
...
Best Sound
Joe Walker
...
Best Achievement in Film Editing
Zsuzsanna Sipos, Patrice Vermette (production design)
...
Best Achievement in Production Design
Hans Zimmer
...
Best Achievement in Music Written for Motion Pictures (Original Score)
Tristan Myles, Gerd Nefzer, Paul Lambert, Brian Connor
...
Best Achievement in Visual Effects
Poster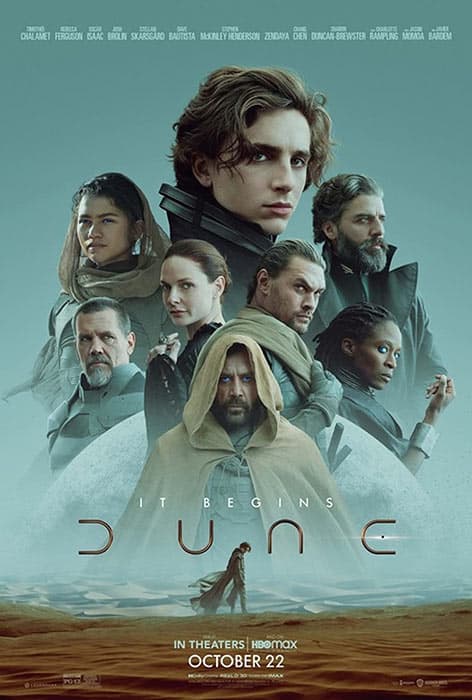 Looking For Something Else?
If you can't find what you're looking for here, send us an email. We take requests, too!
If you're searching for a specific movie or TV show/series, please let us know. 8FLiX has more than 10,000 scripts and screenplays. Not all are currently listed here. Eventually, they'll all be available to download (but certainly not in your lifetime). To avoid waiting decades for 8FLiX to add the script that you're looking for, send us an email. You still may have to wait, but it'll be days rather than generations.