Written By: Taika Waititi
November 8, 2019

•

Searchlight
JOJO RABBIT is a World War II satire that follows a lonely German boy whose world view is turned upside down when he discovers his single mother is hiding a young Jewish girl in their attic. Aided only by his idiotic imaginary friend, Adolf Hitler, Jojo must confront his blind nationalism.
I'm not a ghost, Johannes, I'm something worse. But I think you already know that, don't you? You know what I am.
Elsa,
pg. 27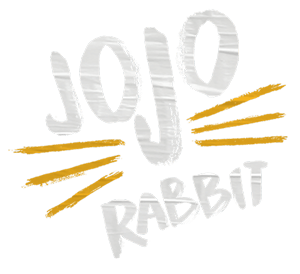 Discover More About the "Jojo Rabbit" Screenplay
There's more to a script than just words.
It takes an army to make a script come to life. Meet the writer of the "Jojo Rabbit" screenplay, and the rest of the team that made the movie.
Read & Download the Script
It's the "Jojo Rabbit" screenplay written by Taika Waititi. Here's how to get it.
To read or download the screenplay in PDF, click or tap the DOWNLOAD button.
And don't forget, to learn more about the "Jojo Rabbit" screenplay, click or tap the SUPPLEMENTS button. Meet the cast, see the budget and box office data and so much more!
The "Jojo Rabbit" Screenplay & Supplemental Material
Click or tap the DOWNLOAD button to read or save the "Jojo Rabbit" script. The SUPPLEMENTS button will reveal a slide sidebar with some great detail.
Pictures? Yep, We Have Those
We have some great photos that go well with this screenplay!
The 8FLiX Film & Television Photo Galleries are filled with quality pictures from movies and TV shows. All of the images in our library are professionally shot. And, 8FLiX PiX curates and posts only the best of the bunch. These great shots are free to download and post for your own personal enjoyment!
Our Algorithms Think You May Also Like
(But we/they have been wrong before)
Search Our Screenplay & Script Library
If you can't find what you're looking for here, send us an email.
We literally have over 10,000 movie screenplays and TV scripts; but it takes a long time to post each one online. Shoot us an email, or contact us on our Social Platforms if you're looking for something specific.